Introduction
WordPress functions can be enhanced with the application of WordPress Plugins. In this topic 10 Best WordPress Plugins will be illustrated to enhance functionality of a WordPress Website. These top WordPress Plugins will include additional functional tools to your website and make it exceptional. Instead of the fact that the kind/niche of your website determines what plugins will be appropriate for your website, some Plugins are almost universal for every WP Blogs. For instance SEO, speed and security are common factors and are too crucial to ignore.
Importance of WordPress plugins
A plugin is a piece of software that can be added to a WordPress website which contains a group of functions. Written in the PHP programming language WordPress plugins can be integrated seamlessly.
WordPress framework consists of numerous useful plugins that will reduce the fatigue of your part. More than 55,000WordPress Plugins constitute the Official Plugin Respiratory System and still counting. Virtually there are plugins for every feature or functions that you may need on your website. Besides, multiple plugins act as mediator of the same feature. You need to select your plugin that meets your demands and install that plugin. There are both free as well as premium plugins for WordPress while majority of them built as freemiums. A freemium plugin stands for a free plugin that constitutes an upgrading option to premium version for feature advancements. It empowers users to include additional features to their websites without having prior knowledge for a single code.
Most suitable WordPress plugins for 2019 must have for a website
As cited above, the list consists of the best WordPress SEO plugins, speed optimization plugins, security plugins, marketing, and social media plugins. These plugins will facilitate you to develop your site SEO friendly, robust, secure and complete with all the aesthetics requisite for a modern website.
Yoast SEO
Traffic for every website is generated from search engines without any doubt. The number of internet users who use search engines is increasing steadily, Search Engine Optimization has a greater role to play where good plugins such as Yoast SEO are very useful for WordPress users.
To create quality content while improving ranking on search engines, Yoast SEO is a mandatory one. It not only focuses on creating contents beneficial for customers but also secure sit to be SEO friendly. The goal is to develop sustainable SEO that helps users gain trust and sustain the ranking.
First of all, you have to choose and apply the focused keywords throughout the article you are writing. Page analysis features to check whether you have used the keywords throughout the article such as in meta description, headings and the whole posts. Additionally, it also suggests that text and images have been set up properly that helps better visibility and usability for search engines.
Besides, it also empowers you to improve the way your post/page appears with a snippet view in search results. Catchy headlines and better meta descriptions can be used to increase the rate of click-through for your site.
You can have a look at the complete setup guide of Yoast SEO here: moz.com still if you have any queries write your comments below.
MonsterInsights
The best analytical plugin, MonsterInsights allows a WordPress user to connect WordPress websites properly with Google Analytics that empowers a user to see about how people find and operate the website. One of the best things about using MonsterInsights shows you all the relevant stats that count on your dashboard. Used by over 2 million websites, it empowers its users to optimize their website accordingly to increase traffic, subscribers, and revenue. Although MonsterInsights has a free version, it can only work full-fledged after upgrading to a premium version.
WP Rockets
WordPress rockets are deemed as the best WordPress plugins in the market that allows you to improve your WordPress website speed and performance with less or none requisite technical skills.
                                            Figure: How To Install And Configure WP Rocket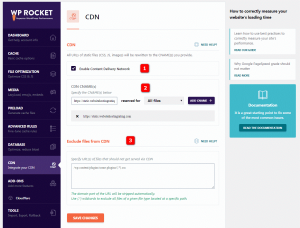 Source:websitehostingrating
Recommended WordPress catching systems such as gzip compression, page cache, and cache pre-loading are automatically turned on by it. Besides, it also empowers you to turn on optional features such as CDN support, DNS pre-fetching, minification and so more to reduce the time for page loading.
WP Rockets also offer imagify that are free image optimization service that boosts your website speed even further.
WP Rockets are the most convenient user-friendly plugins that can only be downloaded via paid services.
Google XML Sitemaps
Another useful SEO plugin tool for WordPress, Google XML Sitemaps help search engines such as Google, Yahoo, Bing, etc. To further index your site with a special XML sitemap. Once you activate the plugin an XML Sitemap will automatically be created for your site for better indexing. A Sitemap permits the search engine bots to view the complete structure of your website for more efficient retrieval.
Everest Forms
Among the fundamental pages that your website should consist of is the contact page where your website audience can connect with you irrespective of the size and type of the website. A detailed contact page is a mandatory one that consists of purposes such as to provide feedback on your work, connect with you for business purposes or general instructions.
If you want further information a detailed comparison that exemplifies this type of WordPress plugins then have a lookat the link shared here: codeinwp
Jetpack
Jetpack founded by Automattic Inc. is powerful from the excellent team behind the software itself, it is a powerful WordPress support plugin mandatory for every WordPress user. Synonymous to its name, packs of excellent features are offered by it that allows your website to glide and lead to success. Your website performance, site security, image optimization, traffic growth, and website appearance are fostered by jetpack.
It constitutes increased distribution, which involuntarily shares your published contents to third party services such as search engines and facilitates to increase your traffic and reach. Furthermore, the addition of Sitemaps helps search engines to index your site better. Moreover, your site is protected from brute force attacks and also monitors your Sitemaps every five minutes' duration to detect downtime and simultaneously warns you for any potential issues.
Akismet
Developed by the people behind WordPress, Akismet is another plugin that has been one of the default plugins WordPress comes along with every new WordPress installation. It generally acts as an anti-plugin that is assigned to check and filter out the spammy comments.
Providing a status history enables its users to sort out the comments that were found spammy by the moderator or Akismet. Moderators also can count the number of approved comments for each user and highlight the URLs in the comment body and remove the suspicious links.
You can also find the procedure tom operate Akismet in the description at wpexplorer
VaultPress
Security oriented WordPress plugin, VaultPress has been built to develop real-time automated backup for your website. The Jetpack powered theme not only helps in easy synchronization of media files, contents, posts, and comments seamlessly but also shields your website from any kind of potential attack. Vaultpress empowers you to customize your backup and restore your website within a few clicks in a matter of seconds. In the case of multiple subscriptions, you can also backup, manage and monitor multiple websites under a single dashboard.
The plugin also scans and detect malicious files on your website and emails the administrator for any changes to your installation. You can also review and manage suspicious codes and solve their issues within seconds. This plugin also provides strong spam protection. Vaultpress' subscription we combined with the jetpack. Cumulative features of these two plugins help you to implement an appropriate solution regarding your website protection.
WooCommerce
One of the best WordPress plugins WooCommerce helps you to add anything you want to sell on your website.
Further, it can be generally used to create an online store and consists of lots of features that enable you to grow on the website through the online store.
Through multiple stores, you can provide your consumers with numerous options through online store also that includes services such as local pickups. Free shipping, flat rates and so on. Ranging from physical products to software, service plans, etc can be sold via the platform where lots of payment options are available.
Note that WooCommerce also has number of plugine. Through these WooCommerce Plugins you can add many functionality to your site.
For further information related to WooCommerce you can follow at woocommerce.com
SeedProd
SeedProd is probably the best WordPress maintenance mode coming soon page plugins that help you to accumulate leads and grow your followers even in times of no availability of your website.
In case your site is under construction, you can use these tools to develop beautiful coming soon landing pages. Features such as social media integration, integration with email marketing services, countdown timer, and ranges of templates to opt for. For further queries please visit at wpbeginner
Conclusion
Depending on your business, all the WordPress plugin tools mentioned above may not be necessary for you. With more than 55,000 WordPress plugins available, it's very tough for beginners to sort out the best plugin suiting their needs.
In this article, handpicked best WordPress plugins of 2019 have been highlighted. in this scenario, the user needs to go through the plugin stats that include all the relevant information that secures it tom be deemed as your desired one. However, there are WordPress plugins that can execute the task you want to, few are of much higher quality than others.
To choose the appropriate one, you need to go through a few questions. Factors such as duration of its last updating, whether it is compatible with the latest version of WordPress software, numbers of supports against consumer queries and rating quality need to be checked.