For international businesses to boost their sales and brand awareness, crawling into the Chinese market would probably be one of the effective ideas.
Having 22,500,00 internet users, China is leading in the internet users' statistics having a growth of 3,584% from the year 2000.
So, if you're not considering your business sites to be optimized for Chinese users then you'll likely to lose this huge opportunity.
And I'm quite sure you don't want that for your business. Isn't it?
So, in this guide, we'll cover up detailed information as to which search engine optimization would best work for your business in the worldwide market in 2020.
Since China can't be overlooked when talking about boosting your business worldwide, your site should be perfectly optimized for the popular search engine dominating in China. For example, Baidu.
Apart from Baidu, Bing is still considered the sleeping giant in the SEO industry having the second largest market share worldwide.
So, let's have a look at Baidu SEO v/s Bing SEO, which one will generate the best outcome in the near future.
In order to view these guidelines with infographic click here – Baidu SEO v/s Bing SEO infographic
Baidu SEO v/s Bing SEO 2020 Guidelines
Best Baidu SEO 2020 Guidelines To Follow
Standing out in the Chinese market is one of the most complicated things due to language, censorship, and bureaucracy barriers.
In 2019, Baidu has been capturing the highest market share of 80.16% in search engines for mobile users and the number continues to grow.
Also, by considering overall users of desktop, tablets and mobile, Baidu still dominates the Chinese market having a share of 61.13%. Whereas bing has a total of 2.4% of the total market share.
Despite this huge difference, you can't completely overlook bing. Since there's not much of competition the chances of getting indexed are higher.
So, the question now is to how you can list your website on the top of SERP in both search engines?
Here we go one after another.
Follow these updated Baidu SEO 2020 guidelines to index your site in the top result.
Baidu SEO Guidelines 2020 To Follow
1. Create good content
Earlier Baidu spider, the search engine algorithm only paid attention to technically optimized content.
So, having a friendly URL, using Meta tag in your title, having the keyword in your title tags could give you good lead in SEO. But with the recent Baidu SEO 2020 updates, the content has become the king in the Baidu algorithm.
With this new update, websites with poor quality content will be banned and penalized by this algorithm.
Unlike Google, Baidu spider now focuses on enriched user experience.
2. Fine-tune your page title
Along with good content, a friendly title is also significant in the ranking. This means to say, your title should be friendly in a way that attracts the Baidu algorithm.
You must be thinking about how you can make a friendship bond with this Baidu spider, right?
Well, it's easy if you concise your title with a clear idea in it.
As the algorithm has become smart now it'll be irrelevant if you stuff it only with keywords. The title should be created in a way that users can easily relate to their search query.
3. No black hats from now
Previously it was easier to make a fool out of the Baidu algorithm. People with their websites stuffed with keywords actually ranked higher than relevant content.
But, with the new Baidu SEO 2020 update in the Baidu algorithm, it has become smarter. Websites with only keywords stuffed can be banned or highly penalized with this new update.
Also, Baidu repeating the same content or plagiarising, it will also impact your ranking negatively.
4. Make it mobile-friendly
More than 98% of internet users in China use mobile. So, optimizing your site for mobile users is advisable according to Baidu SEO 2020 guidelines.
With algorithm update now Baidu bans site having a poor user experience. However, Google already announced to prioritize only the mobile-friendly websites.
Baidu isn't far behind applying the same tactics. So, make your site highly responsive for mobile users.
5. Banned ads
To ensure enriched user experience Baidu has recently started to ban those sites showing excessive advertisements. Also, pop up ads have never been preferred by Chinese users.
Now according to Baidu SEO guidelines 2020, only full-screen ads will be allowed for mobile users. There are certain tips to optimize your mobile landing page. Have a look below.
Don't put in-text ads.
No popup ads
No floating ads
Don't replay any ads
6. Much preference given to HTTPs sites
Unlike any other search engines, Baidu has recently started to give preference to https sites. So, on the off chance you want to increase your site preferences then change your certification.
However, with these updated practices, you need to follow some basic Baidu SEO 2020 rules.
a. The ICP license (Internet Content Publishing License)
The digital marketing of china's government doesn't prefer any foreign-hosted website. As Baidu is completely based on the Chinese market, it can't overlook government policies.
Although it doesn't discriminate, but at the same time, it doesn't get preference too for the overseas hosted sites. So, the best practice would be to host your website in china.
You'll need an ICP license for that. Internet content publishing licenses will refrain your site from getting penalized. Also, it'll increase the site loading speed. Eventually, it'll lead to better user experience.
Note that, ignoring the first step will lead you to slow site loading and fewer chances of getting indexed on the search engine result page.
b. Significance of Chinese language
Baidu is predominantly optimized for Chinese users.
The number of people using Baidu mainly belongs to mainland china. So, it's obvious that your site content should be simplified Chinese.
Earlier international business site users used to overlook this simple yet effective fact.
They use the translator to translate their content and copy-pasted the same content on their Chinese site. But according to Baidu seo guidelines 2020, it doesn't allow because these could not give them a good lead in SEO.
So, for your site to be highly optimized for Chinese users you should focus more on your Chinese writers according to Baidu SEO 2020 guidelines.
c. Focus on good keywords
In Baidu, only simplified Chinese language is given preference. And in simplified Chinese language, each character has different meanings. So, it can lead to a completely different meaning if you don't focus on researching the Chinese keyword.
You can always get your keywords checked by a native speaker to avoid miscommunication. There are some tools like the Baidu keyword research tool you can use as Baidu SEO 2020 best practices.
Unlike google keyword planner, this tool also suggests specific keywords based on your business niche. Also, it covers up important information like search volume on a specific keyword.
That's it! Now let's have a look at Bing SEO 2020 guidelines;
Since bing can't be overlooked in SEO having 2.55% market share all over the world. Let's see;
Bing SEO: Best Bing SEO 2020 Guidelines To Follow
Bing is considered to be the sleeping giant of the SEO industry. Although being largely ignored, bing can be an efficient tool to increase your brand awareness if you follow Bing SEO 2020 guidelines.
Because more than 5 million people search on bing per month. It might differ a lot from Baidu but still, you can't completely ignore it.
By understanding its ranking factors you can actually take advantage of this search engine. Let's have a look at Bing SEO 2020 ranking factors.
1. Create user engaging content
Unlike Baidu, bing prefers user engaging content having detailed information about relevant search queries. So in Bing SEO 2020 guidelines, if your site demonstrates unique quality content, the chances of getting indexed are higher.
If people visit your site but click the "Back" button without engaging in much time then it'll impact your search result negatively. So, creating engaging content is the only way out.
2. CTR is important
Bing measures your site's CTR to improve user experience. For example, if a website listed at no.3 in bing SERP but receives 2x CTR than a website listed at no.1, then more priority will be given to position no.3.
So, keeping bing seo guidelines 2020 in your mind, you have to optimize your content for human beings, not for search engine crawlers in Bing SEO 2020.
3. Page authority
In Bing SEO 2020 updates, it doesn't give much weightage on the number of backlinks. Instead, it prefers the authority site.
So, if your site is older and specific keywords, you're likely to get much preference over the latest ones. This gives a golden opportunity for veteran site owners.
4. Title tag optimization
Unlike Baidu, bing emphasis on highly optimized title tags keeping user engagement in consideration.
Putting keywords in Meta description and title tags will help in your search result in Bing SEO 2020.
5. Significance of Anchor text
Bings emphasis on inbound anchor text more than any other search engine. For example, if you want your site to rank for "red shoes" then you'll need links that have this anchor text "blue shoes".
However, according to the Bing SEO guidelines 2020, over-optimizing the same can trap you. So, it's better to focus on links from high authority sites.
Keeping these ranking factors in mind you should check out these updated Bing SEO 2020 rules. Have a look below.
a. Improved visual search and voice search
In recent bing updates, it's been stated that bing has now the capability to answer complex questions with advanced GPU technology.
In Bing SEO 2020 updates, bing is now capable of the proper pronunciation of words with a human-like voice.
Apart from that bing has also improved its capabilities of visual searching. If you search with a specific image, you'll likely to get similar products.
b. Content submission pilot
In Bing SEO 2020 guidelines, it is advisable to submit your full content. Because now bing enables users to submit the full content to bing along with images and HTML.
Now you don't have to wait for a bing crawler to crawl your site. You can rank based on the quality content submitted on the content submission pilot.
Previously bing used to allow 10 URL's on daily basis, wherein in this new update this limits up-to 1000.
c. Chromium-based Edge browser
Unlike Google, bing has adapted to a chromium-based edge browser. It'll help rendering web pages and also run JavaScript.
It'll make easier for website owners to crawl their sites without any troubleshoot.
Baidu SEO v/s Bing SEO: Which One Should You Choose?
The purpose of SEO is to increase your online visibility and hence improve your sales. Your online visibility completely depends on the user's experience of your site. If people love to come back to your site, your site's visibility increases.
Talking about user experience, you can't ignore the countries with a larger population like China. Since Baidu is having more than half of the market share you can't ignore Baidu in China. Or, you'll lose millions of customer base.
Wherein bing follows the same algorithm as Google. So, it'll be a pie in the sky competing with Google when it has already covered 92.78% market share worldwide.
Baidu SEO v/s Bing SEO 2020 Guidelines Through Infographics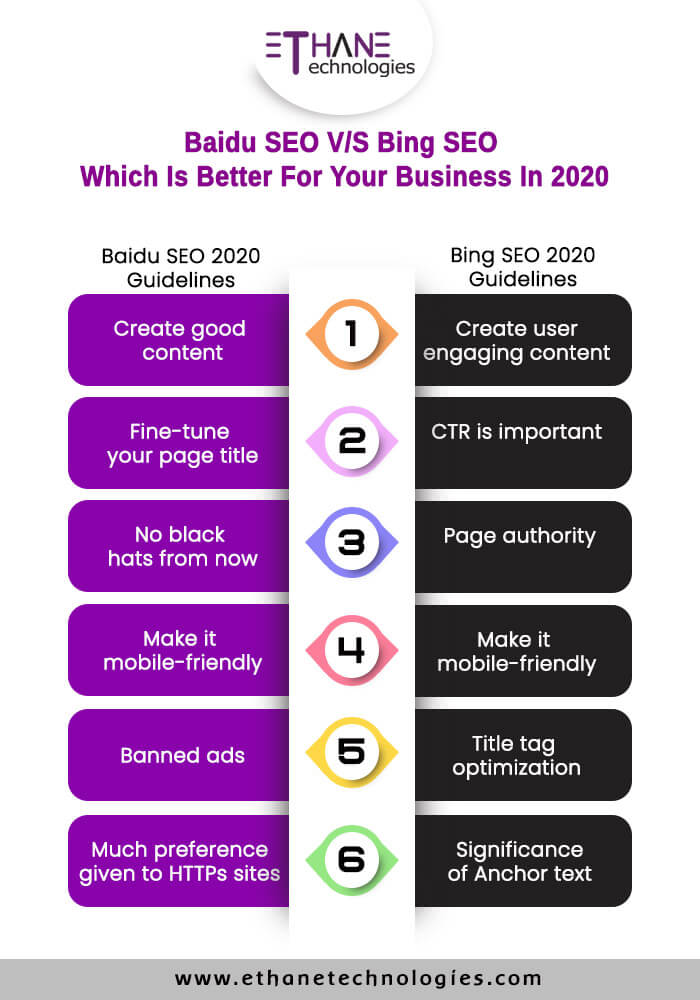 Conclusion
Clearly to get a large customer base there can't be any alternative to Baidu. It has been dominating in the Chinese market and will continue to do in upcoming days. Wherein bing can't overtake internet giant Google.
So, it's best to optimize your site for Baidu to better serve Chinese users. It'll help to increase your sales and build online visibility.
Don't mind to drop down your thoughts if you're on the same boat.