When you think about search engines, Google is often the only platform that comes to mind. It is the most popular engine and performs around 63,000 searches per second, which amounts to around 5.6 billion searches per day. Despite its dominance in the industry, several search engines are growing in popularity and DuckDuckGo is one of them.
DDG has a daily average traffic of over 48 million as of December 2019. Its user base increases every day because of concerns about privacy. It is currently the 4th largest search engine, which means marketers need to start paying attention to it. Many businesses have started seeing substantial traffic from DDG and want to optimize their websites for it. So why you behind – Extend your business with DuckDuckGo SEO, as we have mentioned below some DuckDuckGo SEO 2020 tips.
Why You Need to Work on DuckDuckGo SEO?
DDG's market share is still around 1% and it can barely stand up to giants like Google or Bing, but don't let that fool you. Every new platform has to start somewhere and all analysis indicates that this search engine is going to be a big player in the future. People are growing increasingly concerned over their privacy and are willing to get outside their comfort zone to preserve it.
Traffic from this search engine is showing an upward trend and proper optimization can bring more people to your website through this platform. However, DuckDuckGo is a hybrid engine that gets its results from multiple sources like other search engines, crowdsourced platforms like Wikipedia, etc. According to the company's executives, DDG's ranking is a bit obscure and oblique because it uses underlying APIs' ranking parameters and other factors to rank.
In essence, DDG uses an indirect approach to deliver search results, often seeking out vertical search engines for answers as they provide more details than general engines like Google or Bing.
In order to view these guidelines with infographic click here – DuckDuckGo SEO Tips 2020
DuckDuckGo SEO Tips 2020 to Get More Traffic
Many experts believe that there's no direct way to optimize your site for DDG Seo, but that's not entirely accurate. You can make a few changes to your website and online presence to rank higher on this platform. In fact, DuckDuckGo Seo is easier than most other search engines like Google. Here's are some DuckDuckGo Seo tips 2020 that can help:
1. Make Sure Your Website is Up To Modern SEO Standard
DuckDuckGo is just as committed to delivering quality results as other search engines. This means you need to focus on making sure your site is up to all established DuckDuckGo Seo standards. These standards include:
Your site should load quickly on all platforms. Make sure it doesn't take more than 2-3 seconds.
Create a responsive platform that performs well on mobile devices. The design should look great on all screen sizes.
Ensure your technical DuckDuckGo SEO is in order with no issues like complicated URLs, bad meta tags, poor website structure, etc.
Optimize content to ensure there are no glaring grammar errors or spelling mistakes. All content should be well-written and informative.
Include keywords in strategic places to capture search traffic. Use intent-based keywords for the best results.
These standard optimizations don't directly impact your DuckDuckGo rankings, but they do indirectly influence it. As this platform takes results from other search engines like Bing, Yandex, Yahoo!, and WolframAlpha, a website optimized for these engines will do well on DDG as well.
So if your Bing Seo performance is poor, your DuckDuckGo Seo performance is also going to be poor in many cases (but not all and we'll delve into that soon.) Website optimization never hurts because it has a big impact on the overall user experience.
2. Focus on Link Building
Yes, link building is still a vital aspect of optimizing for search engines. Google considers it one of its three most important ranking factors while DuckDuckGo Seo considers it the only direct way to increase rankings.
Links from high-authority websites increases your credibility and can help you rank higher on all platforms. Most modern marketers consider link-building their priority and implement it in their marketing strategy. Here's a brief look at how to use this strategy successfully:
Find High Authority Websites: Look for websites with good domain ratings or authority. Tools like Ahrefs or Moz can help you check a website's URL so you can determine its authority. A single link from high-authority websites has more value than dozens of low-quality links. Some pages have more authority than others so it is a good idea to consider PageRank as well. Ahrefs will help you determine if links from a particular page are valuable.
Relevancy Matters: Make sure you have links from websites that are relevant to your industry. For example, if you're a web design company, links from arts and crafts websites will not have a lot of value. Make sure the authority website is closely related to your field before gaining a link from them. Lack of relevancy may impact your overall ranking.
Create Stellar Content: Content is the foundation of every link building campaign. Always make sure you have good-quality content that offers valuable information to your target audience. That will help you gain links from high-quality websites. If you have unique insights, research, statistics, or something similar to offer, they'll be more likely to consider you. Content formats like videos and infographics are very valuable.
Email Websites: Email websites and share content that they might find valuable. You can also provide more up-to-date data on links they already have included in their blog. For example, if they're quoting a statistic from 2018 and you have a post with an upgraded statistic from December 2019, share it with them. Most websites will want to offer the most current information and will use your link instead.
Offer to Replace Broken Links: Many marketers look for broken links on high-authority websites, create content that can replace the link, and send it to the website. This can help you replace broken links and get more traffic.
These are some of the best strategies for link building. You can find several detailed guides on link building online if you want to know more. A strong link profile is always helpful and will ensure you thrive on all search engine platforms, including DuckDuckGo.
3. Repurpose Content
According to DuckDuckGo, their bots takes data from more than 400 sources to provide the most accurate results. They do this because they know more search engine users are looking for answers instead of just general links from different websites. For example, if a person is looking for good leather shoes, they will find more relevant results on Amazon or fashion-related websites instead of a general search engine. (https://help.duckduckgo.com/results/sources/)
People looking for advice on coding will find more information on Stack Overflow or Stack Exchange. That's why it is a good idea to repurpose your content on these platforms. Here's a look at what you can do:
Answer questions on platforms like Quora, Stack Overflow, Stack Exchange, Reddit, etc. Content from these sources is often ranked in DuckDuckGo SEO results because this engine looks for answers instead of just providing links.
Maintain a good presence on platforms like LinkedIn, Amazon, GoodReads, and beBee, especially if they're relevant to your industry. For example, a B2B company that shares regular informative content on LinkedIn will show up more often on DuckDuckGo.
Repurpose your content to create short answers and share them on the platforms mentioned above. You'll often find your content showing up high on the SERP even if your website itself doesn't rank. This will bring new traffic to your website indirectly through channels like Quora or Stack Overflow.
Spread your content as far and wide as possible instead of just focusing on particular websites or creating a narrow focus. Doing this will help you get more recognition and rank higher on DuckDuckGo. A stronger presence on these platforms will also help you rank better on Google, Bing, and other websites as well.
4. Understand Your Audience
People go to DuckDuckGo because they're interested in privacy. They prefer a search engine that doesn't geotag them or follow them around through all of their internet activities. However, this changes how people approach to search on DDG. Regular keywords like 'coffee shop near me' won't work because this engine doesn't know where the search user is down to the exact coordinates like Google does.
Take this into account when incorporating keywords or content in your marketing strategy. Here are some tips to consider:
Most search queries will have a geo-qualifier in their keywords. Instead of writing 'coffee shop near people' people will write, 'coffee shop in ABC Street, NYC.' You need to alter your content accordingly.
DuckDuckGo users are looking for answers so they will use question words in their search often. Include words like 'what', 'why', 'how', 'when', etc, in your content.
Use tools like Seed Keywords, Demographics Pro, and Answer the Public to get a good understanding of what kind of keywords you need to use on this platform.
DuckDuckGo keyword research is more in-depth and multilayered than regular keyword research because it uses so many specific sources to power its search. Deep keyword research is the only way to target your audience with some level of accuracy.
5. Use Structured Data
This search engine likes structured data as Google does. A structured data format allows search engines to understand the content in-depth and determine how relevant it is to a user's search query. A standardized format doesn't just improve the overall performance of a website page but also has a positive impact on user experience. This form of data is easy to skim so users can make note of all relevant parts without reading every sentence.
DuckDuckGo Seo prefers JSON-LD, which is a lightweight format that lets website owners create linked data that shows up on the search engine page. JSON-LD offers advantages like Rich Snippets, Branding Logo by the name, Social Proofs, etc.
You can see several examples of JSON-LD here. This showcases just how effective implementing this format into your website can be. Your search result snippet provides ample information to search engine users, which improves your overall credibility.
DuckDuckGo is a growing platform that has been around since 2008. With increasing privacy concerns and distrust toward big entities like Facebook and Google, many users have started to move towards more secure platforms like DDG. You need to make sure your website and marketing campaign doesn't lose these audiences, which is why good DuckDuckGo SEO is essential.
DuckDuckGo SEO Tips 2020 Via Infographic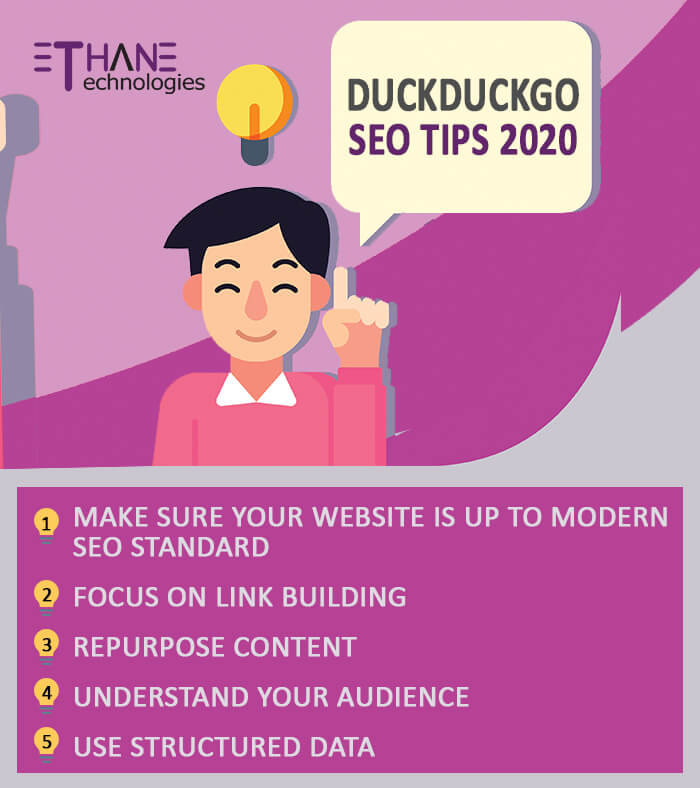 Read More Blogs