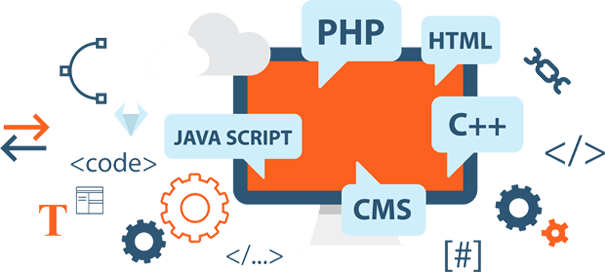 Help Your Business Succeed Online with eCommerce Website Design Services
Why you need an eCommerce Website Design Company?
For the businesses to remain competitive online, it is essential to have a professional website, and that is where precisely the work of an eCommerce website design company starts. How your website looks, the manner it carries and showcases your products and services, the way it navigates, the colour theme, graphics, and SEO compliance required for the upliftment of the online presence is all taken care by a professional ecommerce web designing services company.
Benefits of an eCommerce Web Design Services for Your Business
You can receive these benefits by choosing our ecommerce web design services. Being one of the best  eCommerce web design service in India, we are committed to offering you a service which gives the following benefits:
Wider Customer Access: In contrast to traditional commerce methods, selling products on a global platform helps you in winning a wider customer access.
24/7 Availability: With your online eCommerce store, you are offering customers a great opportunity to shop anytime from anywhere.
Higher Conversion Rate: Having an eCommerce website helps you in increasing the conversion rate since the customers does not have to wait for the store to get open.
Increased Profitability: Online business cuts down the need to hire for more workforce, thus leading to increase in the profit margins.
Why Ethane Technologies?
It becomes clear that a business that wishes to sell products and services to its online audience must have a robust eCommerce website, utilizing the latest technology. Ethane Technologies offers cutting-edge eCommerce web designing services to help you create an appealing online store and guarantee superior performance so that your customers keep coming back to you for more. Ethane Technologies provides eCommerce web designs, plug-ins, and module development solutions to businesses, irrespective of their nature and size. At Ethane, we create services best for your business at custom costs without any delay.
Ethane serves in the following areas of eCommerce Web Design Services.
Custom e-Commerce Web Design Services: You are just a single step away from your dream website as we build a custom eCommerce website which compliments your online business.
Shopping Cart Integration: With this facility, a clean and organized record of the transactions can be maintained.
Payment Gateways Development: We help you bring a drastic change to your online payment processing for ensuring a risk-free business.
Site Optimization & Load Testing: After designing a website, we perform load testing and performance optimization for checking its ability to deal with the heavy
Site Maintenance: We design websites which are easy to maintain and are highly cost-effective.
Get a free estimate for your eCommerce web development services today! Call us now!
Awards &

Recognitions






Client

testimonial

"It is our pleasure to recommend services of Ethane Web Technologies. They have done a fantastic job of optimizing our site."

Hanan Nagi,
http://hni.ae
"Hello, My name is Robert Bloecker, and I am vice president of Rapid Color Printing in Las Vegas, Nevada. I would like to take this time to personally recommend Ranking By SEO India."

Robert Bloecker,
http://rapidcolor.com
"A great firm, great people who can give you a real professional high. Would love to assign new projects to Lalit for the good that he can do to your business."

Kristina Breffitt,
http://prwedding.com
Major

clients






Faq
I have an existing website. Do I need to get it redesigned for adding the eCommerce functionality?
No, you don't have to do the redesigning. Your eCommerce store can be a separate link from the main website or it can be integrated to your existing website for a complete shopping experience.
Do I have to select a template for my ecommerce website design?
No, we will do the eCommerce website designing from scratch based on your preferences and requirements. For custom ecommerce website design services, you can go through the design library to look for more ideas using our web designer examples.
Can you show the design while the website is under development?
Yes, we do! Once we are done with the design of the main page, we upload it on our server for your approval. After the approval, we start working on other pages. Call us now to hire #1 ecommerce website design services India.
Can I do a modification to the ecommerce website design if I wish to?
Our designing experts can make changes to the "ecommerce website design" while you can control "site content". That implies you can modify the text and images on your page, but you can't change the layout of the site.
How much do you charge for a functional ecommerce website design services?
We charge for our products based on their scope, features and complexity. Attributes like number of pages, images and other media, navigation and more add to the cost of development. So, we charge on project basis.