Since its inception, E-Mails have come across a long way from acting as a tool for mere conversation to business purposes. Nowadays, organizations are using this tool extensively whether it is about to send product information or promoting products.
Email Marketing For business helps companies to establish an adhered relationship with the consumers through setting a continuous conversation. Companies can provide updates to subscribers which helps to provide values to consumers. It results in building brand trust and increase the number of loyal customers.
Sending a relevant email and a customer-oriented strategy are effective in building trust within consumers' minds are more effective rather than relaying large amount of mails to subscribers. This requires development of strong marketing team and application of technological advancements. Smaller companies need to use an email marketing tool that helps them to make progress in building consumer base.
Apart from promoting brands or increase the rate of sale email marketing also empowers you to establish a communication with the consumers that helps you to sell products, share information, tell stories or share any news.
Email Marketing- An Overview
Many people may deem email marketing methods as an outdated marketing strategy, that can be proved as wrong interpretation. Still, now email has been extensively used for business and other purposes since the birth of the internet. As there are huge numbers of users worldwide and the number is still increasing, promoting products through emails never has been so much important. Entrepreneurs think that email marketing has been an indispensable part of a business and they are investing a sufficient amount of effort and funds to develop a strong marketing team.
Email marketing can simply be explained as the method of promoting business for an organization through email. Being a direct form of roi marketing, it helps companies to build adhered relationships with customers and provide them information about new products, provide offers to potential customer to build a loyal and satisfied customer base.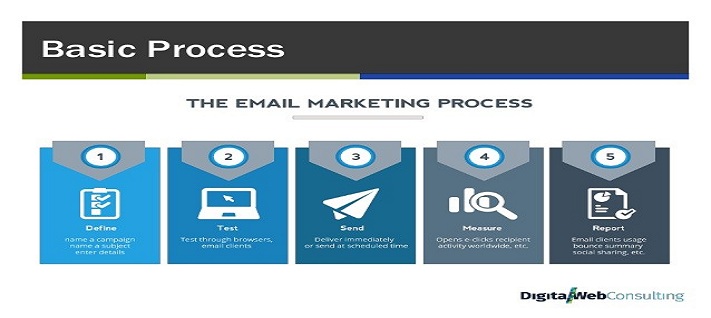 Source: image.slidesharecdn
To avail more information regarding email marketing templates you may visit the link given:
blog.hubspot
Why Use Email Marketing?
Email marketing is generally used for developing trust and loyalty with the consumers to turn them in repeat ones. Companies use this method for providing updates of a product, make them informed about new ones and offer them attractive discounts and coupons.
This will impact the consumers' minds as they will have the feeling of being prioritized by the company that will turn them into permanent consumers.
Studies show that more than 3.7 billion users are using email and the number is likely to hike up to 4.3 million by 2022. this encourages companies to promote their products using this platform, converting email marketing into a trend.
For more email marketing stats and information, you may visit the link: blog.hubspot
Email Marketing Software- Why It Is Important For Marketing?
Several email marketing tools and automation tools are prevailing that will make you use this method of white label marketing more effectively. Tools such as Constant Contact and MailChimp are extensively used for sending emails and assess the responses generated from the user end.
It helps companies to monitor and track statistics such as click-through rates, open-rates, subscription ratio, and conversion rates.
In the case of email marketing, you need to have lesser efforts and least prior knowledge as compared to other tactics of digital marketing strategies that will allow you to increase your business. Companies even can pass on the job to email marketing professionals that will provide them more time and effort for developing their business and focus on other areas.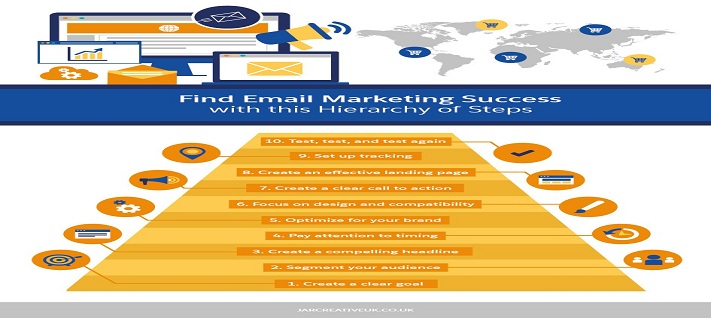 Source: c1.sfdcstatic
Advantages Of Email Marketing
Companies, especially smaller ones are greatly benefited by email marketing as it helps an organization by reducing the cost for marketing and convenient operations.
As more than 90% of internet users use email which provides marketers options for promoting through this platform even better than social media marketing. Also, more than three-quarter of internet users prefer using this method of marketing that other ones and the conversion rate is also higher!
If you are among those who prefer email marketing as a useful tool for business, then you will be able to reach wider range of consumers and build adhered brand relationships with the consumers.
Besides, you can track your ROI very easily using this method. Email marketing software also will help you to track several other factors such as, who is clicking through your mail, your web page is visited by how many consumers through your emails and so on.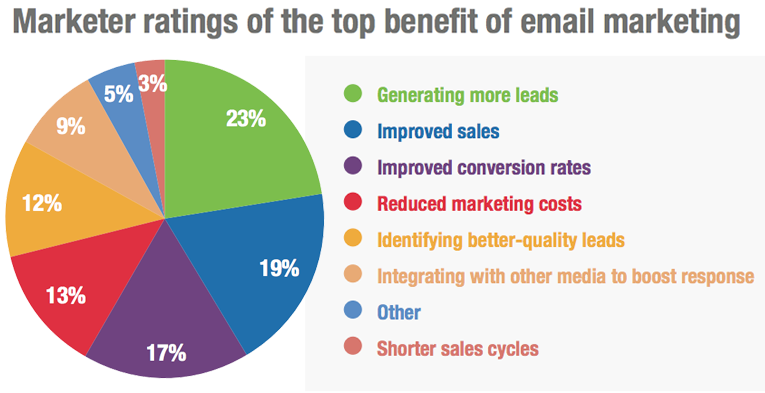 Source: smallbiztrends
As compared to another mode of advertising, your ROI rate can be higher due to fewer expenses to find out target audiences. As they are already directed towards the right ones, you need not provide much effort to establish target consumer base. This is because you are already sending emails to only those who have provided permission by providing their email addresses.
Providing personal email addresses by people means that they are interested in your product and services. This allows you to manifest product information they are looking for. Additional offerings of coupons and discounts will tempt them even more and turn the visitors into potential customers.
Another advantage of email marketing as compared to other marketing method is that people who have provided their email address are interested in your promotion and availing product information, where the case may not be same for other methods most of the time.
For example, if you are going through news feeds and running online videos, people would be annoyed if any interference comes in the form of ads. It bothers them and they eventually ignore it.
An email marketing method is the cheapest method of as compared to another method of marketing.
Email Marketing 2020- A Step Ahead
Being one of the most versatile methods of marketing, email marketing provides you with many tools that will help your business grow. By using an email marketing application you can do stuff like selecting audiences, develop contacts, use subscribers' information to greet them on special occasions and even make a different set of audiences that will allow you to send separate promotions and offers. Before all, an email marketing campaign starts with gathering the email list.
A strategic approach for E-Mail marketing is essential and companies need to focus on basic things to avoid miscarriages such as being marked as a spammy campaigner. Innovative thinking, exact market trend prediction in association with classical email strategy can help you to build a base of large audiences.
For further information about how email marketing can be leveraged to build a strong base of pleased and loyal customers, you can visit the following link: emailmonday
How Email Marketing Help Your Business Grow
There are countless ways that emails can help your business grow. An email has been the cheapest method of digital marketing, and at the same time, it ensures effectiveness and better outcomes.
Facebook and Twitter have billions of users making them an effective platform for marketing purposes. According to studies, Facebook has more than 1 billion active users and Twitter has 255 million of so, making them a tempting platform for advertisements.
So, you might think that these social media platforms are likely to be better ones as compared to email marketing! Although the stats will stun you!
Approximately, there were 3.9 billion email accounts in 2013, and the number just elevated up to 4.9 billion within 2017 and the rate of increase has been gradually rising in recent days.
A high rate of ROI can be seen in the case of email marketing. Statistically, the investment return is 3,800%. This is simply because of the requirement for lesser investment in this type of marketing and high yield.
Conversion rate is high as compared to Facebook or other social media platforms. A total of 3% recipients are likely to be converted into buyers wherein the case of social media platforms the rate is mere 0.5%.
Social media platforms may be more frequently used to establish a connection with distant friends and families, share moments and photos, etc. Although in case of sharing product information, email is more professional and studies indicate that more than 72% of users prefer email to receive promotional messages.
For users of any kind of social media services, active email ID is mandatory, whether you are about to open a Facebook and twitter account or shopping online. Hence, email has better reach to people compared to any other digital platform and it is virtually an online currency.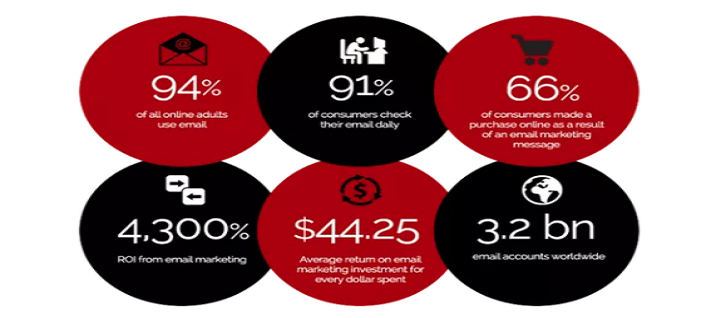 Source:afrodigital
However, you need to make a layout of your email marketing strategy according to your business website. Fonts. Colors and design need to be compatible with your website. Optimization is also very important as majority of subscribers are likely to open and access email through mobile devices, thus making the strategy mobile-friendly.
Among several other modes of marketing, E-Mail marketing has been most effective in attracting consumers and the conversion rate is higher as compared to other digital marketing methods. The whole process is easiest of all and for the same reason it plays an important role in sharing of information for B2B companies.
Appropriate adoption of strategies and their implementation in a premeditated manner not only helps to please consumer but also act as a catalyst of making huge consumer base, both loyal and permanent.