Everyone loves emojis! In reality, the millennial era along with Generation Z cannot seem to communicate without it. Everyone here and there is using emojis to express their states of mind. So, it is not surprising that emojis are slowly slipping into search engine optimization and the world of branding.
Emoji search optimization 2019 is likely to dominate the search engines for the next speculated 10 years!
Today beauty brands, to food delivery and clothing stores, are all using emojis to ensure that their brand ranks high in SERP and get enough traffic. Even now, as hard as it is to envision, somewhere in a sky-high building around the globe a team of handsomely paid advertisers are discussing emoji search optimization tips for any Fortune 500 enterprise.
So, if you wish that your brand should dominate the SERP, it is time to embrace emojis! Now, in case, you aren't convinced about the power of emoticons, see for yourself how emojis affect SEO!
The Entry of Emojis in SEO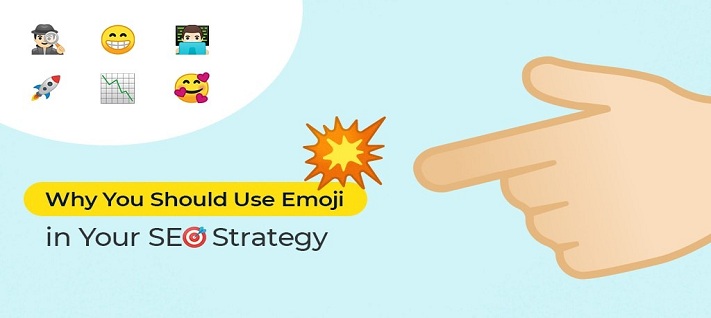 Source: cdn.cognitiveseo
A research conducted by AdWeek in 2015 showcased that more than 92% of online audience use emoticons with 36% users preferring brands that communicate via emoticons. Soon emojis rose to power as Google recognized emoticons and started indexing these to search results. So undoubtedly using emojis is necessary for boosting traffic, and able marketers were quick to recognize this fact.
Moreover, the popularity of emojis escalated after the Deadpool emoji billboard campaign that bought light into the power of emoticons in search results. Advertisers found out the hold of emojis on millennial psychology and related it to how Google interpreted search terms and acronyms and presented the most accurate results.
On a similar note, here's stating why a brand requires an emoji search strategy.
Keep Scrolling:
1.Emojis Beget Search Volume
When you have a search volume guarantee then carrying out an emoji SEO strategy is a must! All you require to do is add 'Keywords Everywhere', a Google Chrome extension, which will help you in adding emojis to search bar and discovering whether that particular emoticon has a search volume.
To understand better let's take an example of a cosmetic shop. Suppose you type in a keyword "cosmetics shop near me", you'll see more than a million searches each month. Now, with so many listings chances are your store isn't lucky enough to be on top.
So, instead of just sticking to words, if you throw in an emoticon of a lipstick or nail paint, chances of your brand ranking high increases. Now, this is most appropriate if you're a brand is just starting out!
The best part is you can go for emoji search optimization in one cosmetic page and leave the other with plain keywords. This will assist you in enjoying the best of both worlds. To know more about this why not give this link a read – ignitevisibility
2. Noticeable by Younger Demographics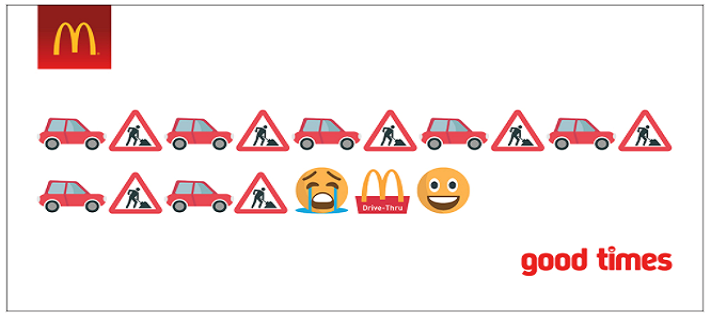 Emojis are not for everyone. Suppose you supply/rent out funeral hearses then obviously you do not want to input pictures of coffins in your SEO. However, let's assume your brand is a pizza restaurant or a sports enterprise then naturally throwing in an emoticon will catch the attention of younger audiences.
Firstly because emojis are playful, and secondly these make your brand appear funky and fun. For example, let's take MacDonald! McDonald s based their emoji marketing campaign on if one's having a bad day they can drive over to eat at McDonald's. Now, this is fun, frivolous and attracted younger demographics like flies.
To go through more examples of emoji campaigns, check out this given link – socialseeder
3. YouTube Ranking Better with Emoticons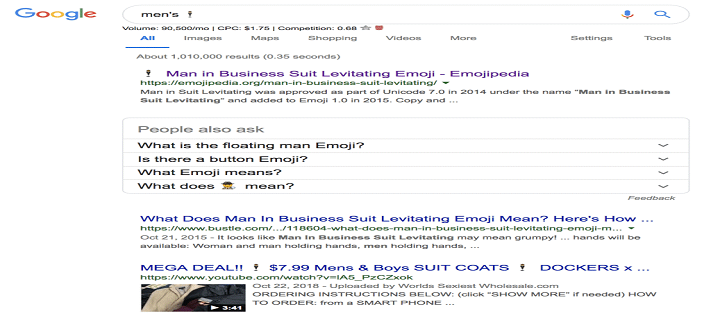 Emojis do help in website ranking, but they are also very effective in social media. After all, everyone noticed how well a post ranks in Instagram and Facebook owing to the use of emoticons. Now, in case of a YouTube ad, currently one can rank high using emojis too!
How? By using emojis in the title and description. For example, recently a trending video on "men's suit" is ranking at the top in YouTube owing to the use of "men's suit" emoji twice.
With time, however, Google might end up implementing algorithms that restrict emoji stuffing, but for now, the use of emoticons in titles can be a valuable ranking factor.
4. Better Ranking for Start-ups
Emoji marketing is only starting out! So, if you're a relatively new brand that is looking to get more traffic, now is the time to use the emoji search optimization tips to help your website rank better.
Why? The reason is emoji SEO is new and less competitive. So, by using a tool to find out the most searched emojis and implement these in your SEO strategy to get a good rank in SERPs.
5. Embrace Emoji Domains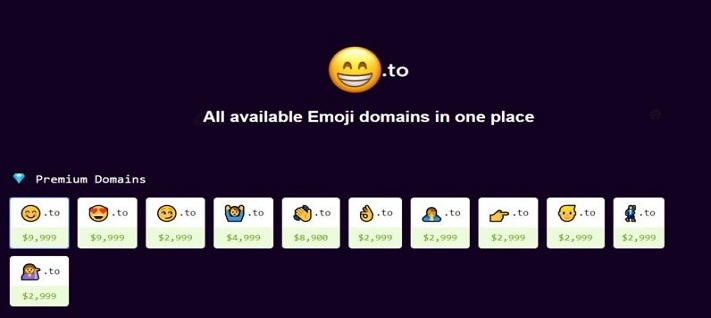 Emoji domains are becoming a thing. Now, while it is too soon to decipher whether this will be popular in the long run, you can experiment with this for good results. Get an emoji domain from a website like "i❤.ws.", if your brand caters to a younger demographic.
This will assist your domain to pop up in search listing ensuring it a handsome amount of traffic. For more insight on this, check out the link given – oberlo
Well, now that you're established why a brand needs an emoji SEO strategy, time to discuss ways to implement emojis in SEO.
Tips to Input Emoji in Search Engine Optimization
1. Local SEO Emoji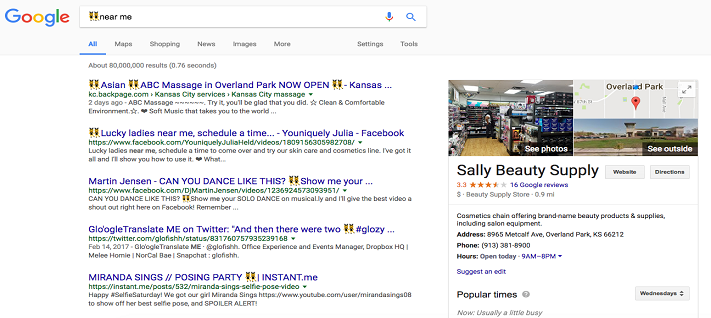 Source: cdn.searchenginejournal
Suppose you input the all popular pizza emoji in the search bar, you'll find that the basic search results showcase the pizza emoji instead of a store. Now, that is not useful, so what needs to be done is putting in a keyword that Google can comprehend.
For example, [pizza emoji + location ]; once you do this, Google will provide a Knowledge Graph that will showcase the results of pizza delivery at the stated locations.
Similarly, say you are using cosmetic stores near me with pictures of girls! This will showcase the results of the best cosmetic stores for women. However, the interpretation of emojis can be tricky!
For example, see how using too bunny ear girls have resulted in Sally Beauty Supply nearby, instead of dancing videos in the given image. So, use emoticons only after doing thorough market research!
2. Emojis Work in City Search Inquiries Too
If you search with say the nail paint emoticon with simply the name of your city, for example, "Canada", you'll find results of a nail salon that might not even have an emoticon in their title or meta-title.
However, emojis can help you discover local businesses and brands too! For example, say you're looking for a bathing suit and you type "Toronto, Ontario", then you will find swimsuit stores near Ontario.
However, the results for keyword search and emoji search are entirely different. For small scale brands, using emojis push up their ranking chances favourably.
3. Emojis and PPC
Emoji search optimization 2019 is a tricky business when it comes to Pay Per click. In all honesty, Google AdWords isn't fond of emojis in PPC. However, Facebook does allow few emojis to be integrated into its ads, but in PPC try to keep the emoji usage to one emoticon per ad. More than this, your PPC campaign can go down the drain.
What's more? Assorted emojis are understood differently by Google. For example, the "snowflake" emoji might indicate winter, but in the black market, it means something else entirely.
Thus, carefully understand the symbolic meaning behind each emoji, and invest in a good digital marketing agency to walk you through your emoji SEO campaign 2019.
On this note, to know about emoji marketing in detail, go through some of the processes mentioned here – elite-strategies
4. Branded Search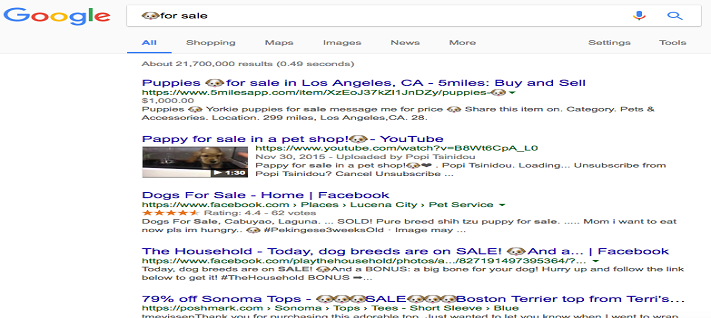 Source: cdn.searchenginejournal
Emoji Search Optimization 2019 is very useful for branded searches too! So if you integrate emojis in common search queries for brands, you can find favourable results stating listings from search results, social media, YouTube videos and more.
For example, suppose you use the emoticon of a "dog" and incorporate for sale, you'll find loads of search results that have the "dog" emoji in them. On this note, for more details on the following visit this link here –searchenginejournal
Well, now that you're aware of the emoji search optimization tips, try and work this less competitive SEO process to your best advantage. With the right strategies, you can make your website rank high in SERP in a jiffy! All the best!