The world of online marketing and websites is much like football! Goals matter here! Just like in football one cannot win without beating the goals of the opponent, in digital marketing without set goals one cannot win in the competition.
This is why if content and SEO is the king, Google Analytics is the emperor that offers marketers with a plethora of information on various subjects that is a prerequisite for all website owners.
This Analytics help in tracking a customer's journey in a way that is useful and acceptable. Now, how is this done? With the use of Google Analytics funnel!
Now, as per conversionx , funnels have several features that aid in improving conversion. However, before going to that, it is vital that you understand the concept of funnels.
Brief Note on Analytics Funnel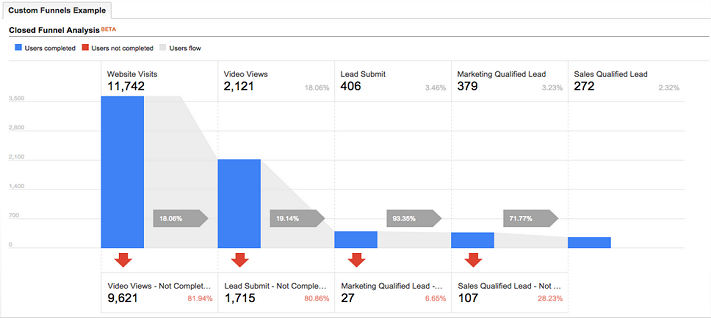 Source: kristaseiden
From the very beginning to the end, the website audience follows a significantly designed pathway. Tracking this path is the task of funnels to ensure that the website is optimized.
For instance, suppose a potential customer navigates to your page. Then you might need them to,
Buy your service/product.
Scroll through their cart.
Navigate a particular product page.
Check the confirmation page.
Put an item in the cart.
So, by scanning and figuring out how customers view your page you can work to magnify their experience, with the use of funnel analysis. For example, the analysis might show which users are portraying a high exit rate on certain product assemblage page.
This means that the web audience isn't satisfied with the product content displayed on that page or other factors.
So, with this information, you can find out the root issue faced by your users and channel your marketing goal in a way that will bring your users' satisfaction.
On that note, it can be safely concluded that owning a Google Analytics goal 2019 is primary for the success of a website.
However, before proceeding to the steps to set up the funnel it is important to distinguish between the two types of funnels.
Flexible vs. Strict Funnel 
In any strict funnel, users follow a sequential pattern where they cannot miss out any steps. This is mainly,
" Homepage  > Category Page  > Cart > Checkout"
Now, this strict funnel mainly works to pinpoint drop off points of users when they are navigating a website.
Contrary to this, in the flexible funnel liquefies the customer journey. After all, not every user has a consecutive pattern. Few scatter along to the "About Us" page and other pages before ordering, while others directly find the cheapest product and place the order.
Flexible funnels are just for these, and hence, are more suited to track a user's journey in real life. An example of a flexible funnel path is,
"Homepage  >  Product Page  > Story Page  > Product Page  > Category  Page  >  Cart  > Checkout."
[Note: One thing to keep in mind is understanding which type of Google Analytics funnel to use for reaching the end goals. To do this it is important that you understand the "drop-out points." Now, the funnel won't answer that for you, but you can garner data via surveys, qualitative analyses and polls.]
Moving on, now that all you have a detailed insight on the task of Analytic funnels, time to address the main topic at hand.
Steps to Set up an Analytic Funnel
Start with a Specific Goal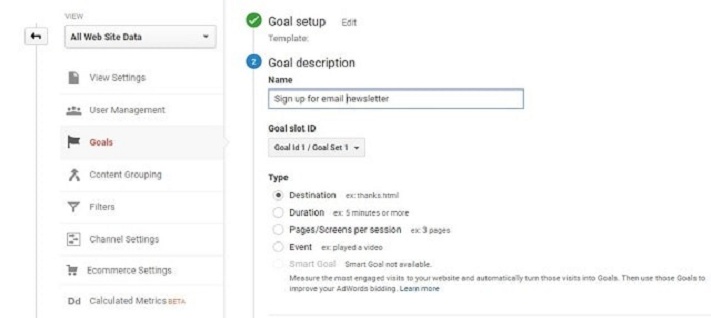 Source: blogcdn1.secureserver
Defining a particular goal is the first object of setting up Google analytics. As per godaddy.com, it is imperative that each online business sets up it's specified Google Analytics goal 2019. Some might focus on more sale of products, while few might require more traffic on their websites.
Nevertheless, whatever be your goal, a marketer's task is to notify analytics. How to do this?
Simply click on click on Admin, select goal and add New Goal. Once you do this you'll be offered with four types of goals:
Duration: How long a user stays on a website
Destination: Going to a specific page
Event: This includes complex actions like scrolling an infographic or surfing a video.
Pages per Session: Going through numerous pages.
Now, once you select and figure out the gaol to select enter the URL of your webpage for determining "page value".
Move to Progress Tracking
Once you complete the first step the page will allow you to frame a funnel. Now, if you click on the "Required" option on the right corner you'll find traffic only for the home page.
However, in case it is left untouched, you'll get the overall traffic for the entire website. Now, if you're an e-commerce website chances are you can set up a larger funnel only segregated for customers buying a product/service, for example, in case of pages involving shipping options, billing addresses etc.
After you are done with the configurations, save the process to set up your goal and funnel. You can in this way create up to 20 funnels at a go.
Now, after this wait for 24 hours to activate Google Analytics so that it can start harvesting proper data. After this, click on "Conversion" and "Goal" and you'll find options like –
Goal flow
Funnel Visualization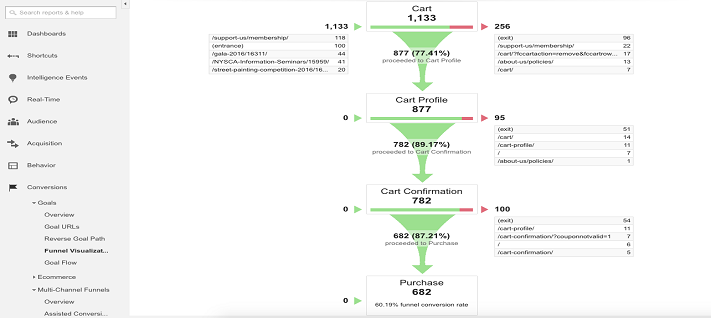 As claimed by megalytic.com, as soon as data is gathered it is time to analyze page performance based on "Conversions > Goals > Funnel Visualization."
For example, take this example of a cart setup for purchasing tickets. Each portion of this funnel showcases the number of people that moved on to the next step as well as the funnel conversion rate at the end.
This conversion rate sums up the number of users that entered the funnel and met the final goal. However, this metric isn't the same as the main goal conversion rate. For instance, in the above image see how 1,133 people entered the cart checkout procedure, but only 60% of individuals completed it.
But, if you ask the question, why 40% of the people dropped out from the cart page? The answer is it can be because of many things like a weak CTA, or products not labeled properly etc.
Thus, to rectify this, check the page where users went to next. These are presented in each tunnel section. Here if you see your audience fluctuating back and forth, it means the previous or next page has what the web users require.
How to Optimally Use Funnel Visualization?
To take the best advantage of funnel visualization, it isn't necessary to have a multi-step shopping cart. You can set up an Analytics Funnel to determine how any page affects the completion of conversions.
For example, say you are promoting college admission forms then you can measure how many people visit /admissions/ section of your website looking for details.
Now since the Analytics Funnel determines the Goal Conversion Rate for the total number of sessions on your website, you can use this to find out the conversion rate of the people visiting a particular page.
Well, now that the important portions of this blog are highlighted, time to shed light on, mistakes to avoid when setting up a Google Analytics funnel.
Read on,
Do Not Forget to Filter Out Internal Session Data
One thing to keep in mind is that your customers and competition isn't the only one who is navigating to your website. Your teammates are visiting it too. So, while it is sweet of Cory from IT to check out your latest blog, too much of internal activity can mess up your overall conversion report.
So, moz.com suggests removing internal session data from results to get the actual conversion rates. To do this, follow the steps shown:
After logging into Google Analytics go for > Click "Admin" > Click "All Filters"
Select "+ Add Filter" and add a name to your Filter
On the filter type option click "Predefined"
Next step involves, "Exclude" > "Traffic from the IP addresses" > "That is equal to", after this input IP address.
Click on "Google Analytics Views" and then "Save".
Not Setting up Goal Traffic
Source: miro.medium
Not setting up a goal tracker for your Google Analytics goal 2019 is detrimental to your website's health. Only with a proper goal tracker can you discover your audiences interests, measure leads and conversions etc. So, to set up goal tracker do the following:
Go to Google Analytics > Click "Admin" > Ensure to check that the right view is aligned to the right column > Click "Goals"
Pick out "+ New Goal"
Now, either go for the pre-configured goals or go for "Custom."
Highlight your goal and search "Type."
Well, there you have with the step by step process of setting up an Analytics funnel. Therefore, ensure to follow up on your KPIs and create a few goals to track conversions better. All the best!