We all talk about search engine optimization (SEO) best practices. But, do we know how the search algorithms work? How different organizations choose their SEO practices? There is a lot of math in deciding the best SEO practices— Google SEO v/s Yahoo SEO. Over the last few years, digital marketers have brainstormed on the best SEO practices for their organizations.
No one is new to Google and Yahoo—both are the biggest search engines, pulling out about 1.2 trillion searches every year. Despite the fact that both of them have a similar goal to attract more users, the search algorithms employed by them for ranking websites tremendously differ.
Perplexed about Google SEO v/s Yahoo SEO for your business? We can help you out. Let's dig into the Google SEO 2020 trends, Yahoo SEO 2020 trends and Google SEO 2020 guidelines, Yahoo SEO 2020 guidelines.
In order to view these guidelines with infographic click here – Google SEO v/s Yahoo SEO infographic
Google SEO v/s Yahoo SEO: Which Is Best In 2020
Google SEO 2020 Trends
Here's what you should know about the Google SEO 2020 trends:
1. Mobile and Voice Search
In 2015, Google revealed that more people opted for mobile searches over desktop searches across 10 countries. Last year in the US, more than half of website traffic was generated from mobile devices. Today, consumers spend a minimum of three and a half hours a day using their mobile devices. As a result, Google has introduced the Mobile-First Index, which enables Google to use a page in the mobile version for indexing and ranking.
Given that mobile device users often depend on voice search to find answers instantly, it is evident that voice search is gaining traction.
2. Semantic Search and Intent Optimization
A couple of years ago, Google discarded its exact-matching keyword optimization. Nowadays, Google doesn't refer to the original string of words typed in the search box. But now according to Google Seo guidelines 2020, it follows the query context and analyzes the probable search intent to deliver better results. This can be observed around the search engine results pages (SERPs) and also in Google Suggest results.
You need to build content that dissolves problems. That's what Google is hunting for, and so are your potential customers.
3. SERP Marketing
It has been years that Google is taking steps to become the last stop. With a knowledge graph, swift answers, and interactive results, Google is building a critical resource that can provide inclusive answers to any query.
For instance, you search for a travel destination. Within one search result page, Google will list the travel suggestions, knowledge graph that includes user reviews, maps, basic facts, etc., related searches, and whatnot. This is where the concept of "SERP marketing" comes in.
4. Structured Data
Semantic data is gaining momentum with Google reforming its initial guidelines and including support for different types of structured data. Clearly, Google is leaving no stone unturned in extracting data from your pages and offering publishers more exposure in return. This provides SEO professionals a competitive advantage over other websites that are not keeping up with Google.
Google SEO Guidelines 2020
1. Optimize your SERP Appearance
Google's business model is easy to understand. Copy the content of other websites and make it searchable to sell pay-per-click ads.
Google wants users to click on their ads, for which they have been optimizing their SERP design.
An ad has [Ad] symbol, which they are legally required to do. In the past, Google changed the color of the symbol from yellow to green, to make it less noticeable, thus increasing the click-through rate (CTR) and revenue.
2. Quality Content
According to Google SEO guidelines 2020, Google focuses on high-quality content. But people sometimes fail to understand what quality content means. First of all, know that info-websites are filled with voluminous content, which is valuable. From this, we can interpret that these sites can rank without backlinks, and once they do, they develop natural backlinks on their own.
3. Responsive Sites Can Fail Mobile SEO
Even if your website is responsive, you can be unnoticed due to a lack of mobile compatibility. As a friendly reminder, Google would have separate indices for desktop searches and mobile searches. Now, everything depends on the mobile index alone. So, if your website is still not optimized for mobile devices, you better get started.
Google takes mobile compatibility into consideration. Even on responsive websites, you need to ensure that everything is in shape.
4. Backlinks for SEO in 2020
Ranking in Google is eventually a combination of signals, and backlinks have always been the most powerful one. Content alone can rank, staring with long-tail and working yourself up to high rankings thanks to good user signals that tell Google your website is relevant. As rankings rise, you get links naturally and the site hits tremendous growth.
Undoubtedly, your links need to have quality. You can get the links from Youtube, social media sites, citations, and guest posts. People want to link to great content, so outreach can yield tremendous success.
5. The Protocols
You need to be aware of the different protocols. First of all, the http protocol is how browsers interact with a server every time some information is requested. The two major protocols are the http 1.1 and the new http/2 protocol, which is crucial for SEO professionals to understand and use. Yet only 35 percent of websites use it at this point.
The http 1.1 protocol loads everything one after the other while http/2 allows objects like images or scripts to be loaded in tandem. This means the new protocol is faster in loading websites.
Yahoo SEO 2020 Trends
If you're convinced to employ Yahoo SEO, below are the Yahoo SEO 2020 trends that can help you affirm your decision on Google SEO v/s Yahoo SEO.
1. Competition is Possibly Lower
Just because the competition is rigid on Google doesn't mean it will be as competitive on Yahoo. For instance, a user searched for the keyword "best donuts" on Google. He/She might be satisfied with the results on Google and, therefore, ignore the other search engines such as Yahoo.
2. Yahoo is Simple
Google SEO is arguably more complicated than SEO for other search engines like Yahoo. Over the last few years Google has implemented many algorithm updates, many of which have puzzled the digital marketers. Yahoo hasn't done this.
3. Yahoo and Bing Are Similar
Yahoo SEO and Bing SEO are similar, if both search engine SEO is similar, so obviously Yahoo SEO guidelines 2020 and bing SEO guidelines 2020 will also be similar. So if you're optimizing for Yahoo, you're also optimizing for Bing. Both search engines have their own algorithms—that is, automatic systems that determine how to rank websites for any given keyword—but they are very similar to one another.
4. Links Are Important
Yahoo SEO values inbound linking and backlinks more than Google. This means that if your website has a high number of quality links, you may rank higher on this search engine, even if other factors that Google considers priority aren't quite where they should be.
Yahoo SEO Guidelines 2020
Follow the below Yahoo SEO 2020 guidelines when engaging in Yahoo SEO 2020 practices:
1. Know Your Keywords
Yahoo SEO emphasizes the keywords in page titles and tags. However, ensure not to overuse them or create irrelevant sentences. First, try to find out what most of the people are searching for on the Yahoo engine with respect to the services you provide. Based on the understanding of the search terms/keywords, you can add them to your website.
2. Your Content Should be Engaging
According to the Yahoo Seo guidelines 2020, some rules for SEO are similar, irrespective of the search engine. This holds true for creating engaging and high-quality content.
Yahoo SEO like the other search engines depends on appropriate content. Ensure that the blog posts, articles, and other content pieces on your website are relevant and informative. Create content that's valuable to your readers.
Add a new perspective to a trending topic or publish content that's fresh. Don't try to bluff the system by building long pieces that contain tons of keywords with no substance—Yahoo SEO 2020 will catch on and hurt your website rankings as a result.
Finally, don't assume that Yahoo SEO algorithms and ranking factors will remain the same forever. Just like Google, watch out for news updates that contain information related to what website owners should be doing in order to deliver a better user experience.
Google SEO v/s Yahoo SEO 2020 Guidelines Through Infographics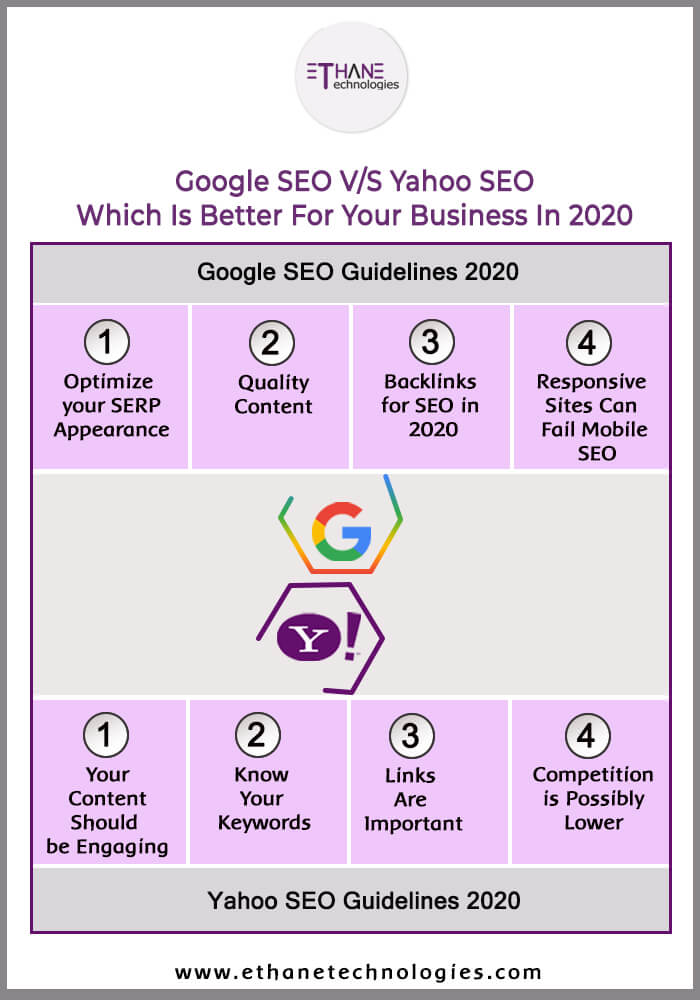 What Can We Infer?
Still confused about Google SEO v/s Yahoo SEO? The underlining part is SEO interlinks with your content, social media platforms, and advertisements to create a digital strategy. Without SEO, laying a strong foundation on regular traffic is difficult, leaving your website on the search result pages that no one ever checks.
Needless to say, SEO practices are growing fast, and it is a very exciting time to adopt the best SEO practices. Whether Google SEO or Yahoo SEO, the choice is yours.
Read More Blogs