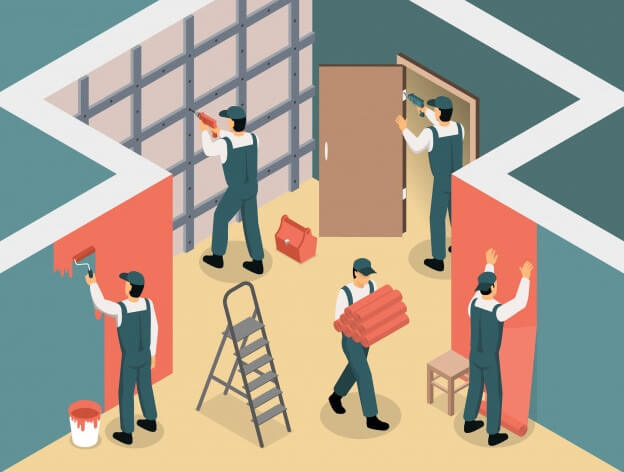 The digital marketing revolution has changed the way home contractors attract and interact with new clients and vice versa. Instead of putting physical efforts to convince the prospects about any project, contractors are now taking the leverage of the internet and implementing the latest remodeling marketing strategies for their construction marketing company.
Many of you who are new to this industry may found this waste of time. But dear, if you dig deep you will understand the importance of online marketing and how you can manage to generate high revenue from it.
Thanks to the marketing surveys that have put limelight on a few facts, convincing the contractors about the use of remodeling marketing ideas over the web.
It is said that customers spend a majority of their time online, which is approximately 8 hours a day. Statista in its report has highlighted that the total home improvement sales are expected to be 510bn USD by the year 2024.
Therefore, to thrive in this competitive market, it is better to be unique than to be plagiarized. One such exclusive way is to introduce a home remodeling marketing strategy online.
How do I market my home remodeling and construction business online?
Here we have listed down a few ideas that you can frame out for your business;
10 Home Remodeling Marketing Ideas You Must Consider For Attracting More Clients
1. Create An Online Outlet To Interact With Customers 24/7
Do you have your own online outlet to display your business, your projects, your achievements, your stories, etc.? Yes, we are talking about your business website that helps to attract visitors and convert them into potential clients. This should be added at the very top of the wish list of your home remodeling marketing strategies.
Build a website that can interact with customers 24/7. You should keep a chatbot that can generate conversations just like you in person. These bots have their unique ways to answer every question made by the visitor.
Many businesses have the wrong concept about a website. According to them, it is enough to have a normal site that displays brand services and contact details. But it's not just about any random website. Want to create a competitive edge for your business? Have a unique and engaging website that offers a user-friendly interface and builds connections with your customers.
Take care of the website design, the content, the relevancy, and make it live. This should be the first step of your home improvement marketing strategy.
2. Gain Visibility With Search Engine Optimization
When you are done with your website, it's time to work on the online visibility of your business. To ensure you gain a strong response from your online outlet, you need to perform two significant things.
First, you should have your business listed on Google My Business so as to reflect your brand on Google searches and Google Maps. Second, you must work on the SEO factors.
Improving your website SEO means, you need to build a site that remains visible on the top of your search engine result page, whenever a relevant search is made. It helps you gaining higher ranks on Google and improving your brand reputation online.
Such a home remodeling marketing strategy involves the following factors;
Catering to the keywords in your website content.
Improving the meta titles, descriptions, header tags, and title tags.
Acquiring high-quality backlinks.
Turn your website secure with HTTPS.
Improve your web page loading speed for high retention.
Optimize images and content of your web page.
You don't need to struggle with your newspaper ads to gain recognition from the market. With SEO, you can easily get the chance to build high brand authority and stand out from the competitors.
Moreover, you must also put more focus on your local SEO factors as well as SMO factors. Optimize the Google My Business page with accurate information so that it becomes easier for the prospects to find your business on local searches and Google Maps.
3. Set Up Your Own Content Portfolio
In SEO, content has a very dominating role to play. You must have heard about creating unique pieces of SEO content with the proper use of keywords. Yes, they are significantly used for gaining backlinks, heavy traffic, and potential clients online.
Apart from your SEO content, there are several other varieties of content you must consider while you are crafting your home remodeling marketing strategies.
For example, you can have your own personal blog section to educate your visitors. You can create guest posts to draw in relevant traffic from other sources. You can share articles, video content, GIFs, creative social media posts, and many more to seek the attention of the audience.
In short, it is all about content marketing that helps home remodelers to gain the trust of the audience. Studies have proved that 82% of consumers make a positive decision after reading or watching content. Hence, turning the content visually appealing should be your first priority.
4. Roll Your Cameras To Capture Beauty And Emotions:
Roll camera, action! It's time to capture some beauties and emotions that can attract a great audience and convince them to perform any sort of action.
For a construction marketing company,including visually appealing images and videos can steal the attention of the viewers. It is quite obvious that a potential client will sign up for a deal with a home remodeler only when he finds the portfolio attractive. You can achieve this only by creating images of different home projects along with the client's emotions about your work.
Add the visuals to your visitor landing pages or the home page where maximum viewers land to gain more information about the brand. You can even share these pictures and videos on your social media networks and find new clients over there. Make sure you put this in the list of your home remodeling marketing ideas.
5. Share Information Using Infographics
Another short yet creative piece of content is infographics. You can call this a trending technique to market your content to the readers who prefer reading short and crisp content to lengthy blogs. This is another most effective home remodeling marketing strategy you must consider while moving your business online.
Apart from blogging, infographics may also help you in gaining more traffic and leads to your landing page. In fact, it is proven that they are much more powerful than other pieces of content.
This is because they contain both visual elements along with statistical information that takes no time to gain brand credibility online. You can simply add attractive CTAs to pull leads from the crowd.
6. Entertain Your Audience With Great Ads
Do you know, 97% of online consumers crawl different web pages to find a suitable local business to meet their requirements? 73% of online consumers indeed click on the paid ads to interact with the brand and make their purchases eventually.
Such ads hit the mind of the prospects and convince them to perform a purchasing action. Therefore, there is no wrong with thinking about paid ads investments while crafting your home remodeling marketing strategies.
Ask your PPC experts about digital ads. Unlike normal ads, they should be created with much patience and perfection. The PPC ads must hold an attractive tag line, accurate set of information, quality content, ad extensions along with call-to-actions.
Being a home remodeler, you can choose PPC ads of different variants. They are listed below.
Display ads – You can find these ads on different third-party websites, news sites, blogging sections, etc.
Search ads – They appear on the absolute top of the search engine result page like Google.
Remarketing ads – They choose social media channels and other websites to display a brand that is already visited by the potential client.
Social media ads – As the name suggests, these ads appear on different social media channels like Facebook, Instagram, Twitter, etc.
You can run any of these above-mentioned advertising campaigns and enhance your home improvement marketing strategy.
7. Increase Engagement Through Social Media
How can you forget about social media engagement for your home remodeling marketing strategies? It has a great impact on your home contractor marketing company running online.
Social media is a large platform that gives you the chance to target a wide audience and convert them into potential clients.
You can achieve this simply by sharing different styles of content like articles, blogs, press releases, updates, image content, and so on. To be more creative you can use visually appealing images, property-related videos, client testimonials, etc.
Platforms like Facebook, Instagram, etc. allow users to run events like quiz contests, generate polls, create live sessions, and other engaging content that takes no time to gain more likes and shares.
However, you can't expect to achieve all your goals through social media, unless and until you improve your brand consistency on every platform. Be more active on social media.
For instance, you can have a regular conversation with your followers, make immediate responses for every comment on your posts, share other posts relevant to your brand, etc. This improves the social media presence and simultaneously influences the search engine rankings, turning your home improvement marketing strategy so effective.
8. Share Your Success Story
The Internet accepts everything. Be it your negative advertisements or your positive success stories, the internet gives you the chance to showcase everything. Taking the leverage, you can share your achievements along with your success story with your audience over social media or the website itself.
Many of you don't consider this among the powerful home remodeling marketing strategies. But trust us, it makes a huge difference in your brand.
For a home constructor or remodeler, things like success stories create an emotional vibe to the overall marketing concept. Apart from sharing news updates, feature your achievements on the landing pages. This will keep you attracting potential clients who are actually interested in your brand.
9. Stay Connected With Email Marketing
Let's now find out how email marketing can be the strongest home remodeling marketing strategy. Not just strongest, it is the most cost-effective marketing concept that brings outstanding results in a stipulated time frame.
Email marketing is too demanding for generating quality leads. Marketers use this to connect with the existing customers and keep them updated about any latest brand information. It requires fewer efforts but has the tendency to drive in more new potential clients to the doorstep.
Those home remodelers, who have a very tight budget to market their business online, can definitely include it in their remodeling marketing ideas.
Different sorts of content you can use in your email are –
Links for the videos or blog content.
Client testimonials and a feedback mail.
Pictures regarding the recent project.
Infographics
Run ad campaigns
Share updates for upcoming webinars and events.
You can choose any such content and portray your brand to your new and existing customers. This can turn your home improvement marketing strategy so powerful.
10. Generate Reviews On Google My Business
By the time you are paying attention to different marketing techniques that can boost brand exposure, you should also keep an eye on your brand reputation online. Online reputation management should be one of the primary objectives for your home construction and remodeling company.
The best way to manage your reputation is by generating more positive reviews on Google My Business and building a strong image online. Start your online reputation management process by asking your happy clients to share their experiences as brand feedback. Be it a positive review or negative feedback, make sure you respond all of them instantly.
Besides Google My Business reviews, you can even ask your clients to share their feedback on Facebook recommendations. Google and Facebook are the two most popular review generating sites that people usually rely on before making any online purchase. However, you can even manage the reviews on other sites as well and build a good image online.
Benefits Of Introducing Home Remodeling Strategies To Your Online Business Plan
Are you still hesitating to implement the trending home remodeling marketing ideas? Go through this context once before you change your mind. Here you will uncover the compelling reasons that have made online marketers a fan of digital marketing strategies.
Gain customer trust and build brand credibility with frequent conversations.
Boost brand engagement through social media marketing.
Generate quality leads with email marketing and digital advertisements.
Promote your brand and improve your conversion rates through search and display ads.
Enhance brand visibility and high rankings through search engine optimization.
Build heavy engagement and brand recognition with video marketing.
Wrap Up
To stand out in the home construction and remodeling industry, you should pay attention to the updated home remodeling marketing strategies. You can keep an eye on your competitors to find out the latest marketing ideas and manipulate them in your own way so as to gain profits.
The overall job is pretty challenging but nothing can be more effective than this if you put them in an organized way. So, work on it and stay competitive in the digital marketplace.