Table of Content:
Let's get cracked!
It is no secret that businesses, irrespective of their sizes and shapes, are now focusing on how to establish a social media presence and drive in more new clients from the social media channels. The realtors are no exception!
The importance of social media in marketing is thus no longer hidden to them. Instead of marketing offline and putting extra efforts to avail traditional marketing benefits. The realtors are exercising the new modern social media marketing strategies for real estate to enhance their client base.
Before we move on to the in-depth real estate social media marketing plan, we would like to share a few aspects of the recent study.
Here we have pulled a few stats and facts that you should know before making any absurd decision.
A recent study conducted by the National Association of Realtors has stated that social media has become an integral part of digital marketing, especially for real estate agents. Below is a snapshot of the report analyzed from the survey.
77% of realtors are investing in real estate social media marketing to ensure generating more new clients and a better digital presence.
47% of realtors believe that a proper real estate social media marketing plan can drive in a good number of quality leads, in comparison with other marketing channels.
Realtors have found that 99% of people go online to search for a property, instead of in-person referrals.
The figures mentioned above clearly defines the strength of social media and how realtors are relying on a real estate marketing strategy on social media.
Now, the question is – how to have a proper social media marketing plan for realtors? The following section is all about the tips and tricks that you need to remember while designing your marketing strategy.
How To Create A Strong Social Media Marketing Plan For Realtors By Following Real Estate Marketing Strategies?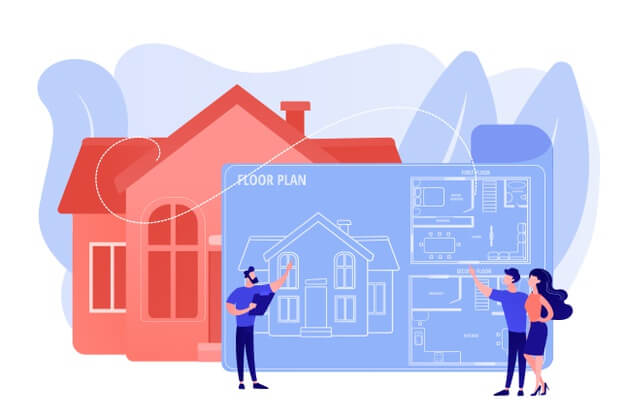 Follow the real estate social media marketing tips and tricks to discover more new real estate clients online!
Stepping into 2021, a lot of changes has been marked on social media marketing features. Keeping them in mind, we have listed down the real estate marketing strategy so that you can plan out your success.
#1: Ask Yourself – What Are Your Social Media Marketing Goals
Whenever you are planning for a real estate social media marketing strategy, you must kickstart your job by defining your goals. This particular point remains the same for every marketing strategy.
Social media allows realtors to promote their business, find new clients, generate strong leads, raise brand awareness, and many more. What are your objectives behind starting with a real estate social media marketing plan
Once you know your marketing goal, it becomes easier to create a powerful social media strategy for realtors that fit the requirements and marketing priorities.
#2: Focus More On Your Social Media Content
When you are marketing on social media as a realtor, you are not just confined to blogs and articles. Instead, you get the chance to use different varieties of content to seek the attention of your audience.
Create a content calendar for your real estate marketing, where you can add different styles of content with different topics, relevant to the business niche. Surprisingly, these are all a part of your comprehensive social media marketing strategies for real estate. Here's what you can post on social media.
Visually appealing content – Images, videos, GIFs are considered visually appealing content that takes less time to drive the attention of the audience and build engagement.
Here you can use property photos, 360-degree featured video about the property and its neighborhood. The eye-catching pictures or short videos should generate more likes, shares, and comments.
Blogs, articles, and news – Social media allows realtors to share long-styled content in the form of blogs, articles, case studies, and press releases. Every real estate website has a separate section for creating blogs, which unfortunately fails to attain the presence due to less engagement.
Sharing those blogs straight from your website is a great approach to increase your website traffic and number of viewers. Some important topics you may choose for creating your write-ups are – tips on how to maintain your property, articles on market predictions and inflation, information related to the property, neighborhood, recent news, and so on.
Success stories – Your real estate social media marketing plan must include sharing of success stories and brand achievements. Every buyer looks for a realtor that has gained success in the past few projects.
By sharing your success stories in the form of an emotional and engaging video, you can build brand credibility and compel the potential client to show interest in the brand. Your success stories may even contain client testimonials for reference and brand authority.
Besides, you can even add event coverage, share your new listings, and company milestones in your content calendar, letting your audience come across different styles of content every alternative day.
#3: Bring Engagement With Real Estate Hashtags
No matter what type of content you would like to share on social media. You should not click the "post" button unless you have an engaging caption with some engaging hashtags.
Social media strategy for realtors remains incomplete without the use of proper hashtags. These are most effective technique to amplify brand visibility and bring more engagement. True indeed!
Hashtags give the brand a chance to discover more new potential clients on social media by bringing the real estate business in front of the right audience. An excellent content thus requires some excellent hashtags.
Tracking the activities of a few successful realtors on Instagram. We have gathered some powerful hashtags relevant to the brand niche.
Generic hashtags – #realestate #realtor #houseforsale #properties #broker #mortgage #homelisting #renovated #housing #property #forsale #newhome #househunting #homeinspection
Realtor hashtags – #realestate #realestateagent #realestatelife #listingagent #commercialrealestate #homebuyer #investmentsales #investment #realestateinvestment #propertyfor sale
Customized hashtags – #[brand name] #[broker name] #[target area] #[target city]homes #[target neighborhood] property
Customized hashtags – #[brand name] #[broker name] #[target area] #[target city]homes #[target neighborhood] property
Be it Instagram, Facebook, Twitter, or any other popular platforms, social media marketing strategies for real estate without hashtags have no meaning. So, focus on them while creating great content on social media.
#4: Make Your Brand Interesting With Realtor Quotes
Do you want to add fun to your real estate marketing strategy? We will suggest sharing realtor quotes on your social media timeline. Such an approach is not just interesting but even causes grand engagement.
You don't need to put great effort into building content. Rather, you just need to think smart and create simple quotes that are enough to trigger the audience for deciding on buying and selling properties.
In your content strategy, you can include funny quotes, real estate inspirational quotes, real estate sayings, real estate agent's statements, real estate client testimonials.
Using graphical quotes is an interesting part of your social media strategy for realtors. When you have nothing to post on social media, you can definitely try out these posts to get likes and shares.
#5: Stop Waiting, Start Scheduling
Why guys you need to wait when you have the option for scheduling your posts? We consider scheduling as an important part of your real estate marketing strategy on social channels.
No matter how great your posts are, if they don't reach out to the targeted clients, if they fail to appear to the relevant searches, there is no meaning in creating engaging posts.
To ensure high engagement, you must post your content at a particular time when all your targeted clients are active on social media.
Instead of posting the content at your convenience, schedule them ahead of time so that they get posted when a majority of property seekers are on social platforms.
To perform the job, you can take the help of social media management tools that are designed to organize and schedule the posts in advance.
Note: Social media marketing strategies for real estate are not over yet. There are more to come.
#6: Boost Lead Generation With Social Media Advertisements
When you are on social media, it is impossible to forget about promising social media advertisements. Facebook, Instagram, LinkedIn, YouTube – all provide a wide platform for realtors to advertise their services and generate quality leads.
Now, lead generation can be accelerated through various processes. For example, optimizing your social media profile with accurate information, adding call-to-actions to every post, adding a link to your bio, share clickable content, and so on. Among them, social lead ads need special recognition.
Facebook lead ads – On Facebook, you will find a specific lead ad format to advertise your real estate business for lead generation. These ads appear in promoted forms that can be synced to your CMS (customer management system) and can easily derive the number of leads generated through them.
Leads are collected whenever a user clicks on the ad and fills up the respective form to view the ad.
Instagram lead ads – Instagram ads are almost similar to Facebook lead ads. In this type of advertisement, Instagram offers you an option to submit partially pre-fill forms.
The fields like email address, name, contact number, gender, etc. will be completed in advance.
LinkedIn lead ads – Real estate social media marketing plan even includes running lead gen advertisements on LinkedIn.
Just like the previous ad types, these ads are available as sponsored ads that appear on mail and message ads that can be sent directly to any LinkedIn connection. LinkedIn lead gen ads have the potential to generate a 13% average conversion rate compared to other ad varieties.
Besides the LinkedIn lead gen ads, you can even choose LinkedIn dynamic ads to bring leads to the website. They come with proper call-to-actions, triggering the generation of quality leads.
Such paid advertisements ad life to the social media marketing strategies for real estate businesses. However, apart from lead ads, you can also use normal dynamic and responsive ads for brand promotion.
#7: Encourage Clients For Real Estate Reviews
Gone are the days when property buyers look for in-person referrals while buying or selling a property. Nowadays, clients are smart enough to scroll online, go through the reviews and ratings, and make their decision accordingly.
Hence, the importance of real estate reviews in your social media marketing strategies for real estate.
Instead of relying on fake reviews, ask your happy clients to share their experiences on social media. Facebook recommendations are often considered the first priority. You can simply send a feedback pop-up to your clients once after their purchase or even can share the link via email.
A clear picture of the client's testimonials, ratings, and reviews matter a lot to drive a potential client to the doorstep.
#8: Communicating With Clients Brings The Best Solution
A majority of real estate clients prefer to communicate with the brand on social media. They raise complaints, they share feedback, even they use social media for having conversations around the brand. Hence, no other platform works better when you want to communicate with your clients.
This should be another most significant part of your real estate social media marketing plan. Opening to clients reflects that you are concerned about your clients.
It shows your behavior towards your clients and gives you an insight into the clients' demands, their interests, and their perspectives.
It is found that 11% of realtors are using social channels to communicate and respond to their client's messages. Now, this can be time-taking but it is equally effective from the other way round.
What Are The Different Tools To Rely On When It Comes To Managing Real Estate Social Media Marketing?
Executing the entire social media marketing plan for realtors is both tiring and challenging. However, you can make use of some effective applications to maximize the efficiency of your real estate social media marketing process. The tools will not just reduce time consumption but even help you to perform the job with perfection.
Different resources are available online to meet different objectives. Here we have listed a few applications and sites that are perfect in their respective fields.
To find the best quality realtor images – Stocksnap.io, Unsplash, Burst By Shopify.
Creating real estate social media graphics – Canva, Snappa, QuotesCover.
To schedule social media posts – Buffer, Hootsuite, Sprout Social.
Finding trending real estate blog-related topics – The BREL Team, Zillow.com.
To create amazing real estate videos – Animoto, Biteable, Makermoon.
A social media marketing company for real estate agents makes use of these tools to turn their social media marketing strategies for real estate success. Either you seek their guidance or else follow the same process to proceed further.
Why Should Realtors Invest In Social Media?
For those who are unaware of the advantages of running social media marketing strategies for real estate businesses, don't miss out on this section. Unless you understand the need for social media, you will remain devoid of acquiring the benefits.
As we said in the previous section, 77% of realtors actively use popular social media channels to market their business online. The very first question perhaps has hit your mind is – why?
In this context, we will discuss – why a social media marketing plan for realtors is so demanding? Why people are investing in real estate marketing on social media? This is because of the following key benefits.
Real estate social media marketing packages are inexpensive compared to other digital marketing and traditional marketing packages.
With a winning strategy and an appropriate social media marketing plan for realtors, it is easy to reach out to potential clients and make quick engagement.
Social media allows realtors to target the audience with assorted advertisements.
Customer relationship management for the real estate business is more convenient on social media.
Through a successful social media for realtors, spreading brand awareness and gaining brand credibility is an easy cup of tea.
Won't you like to reach out to the high intent customers? Won't you like to enhance your business ROI without spending a huge buck on other marketing essentials?
Social media is indeed the best fit for your real estate marketing plan.
Key Takeaway
No matter how great is your traditional marketing plan, nothing can beat your social media marketing strategies for the real estate business. From acquiring leads to accelerate the business revenue, you can avail all such benefits if you follow the strategy outlined above.
So, stop sticking to your traditional marketing and advertising techniques. Start using social media to find new clients who are flocking to social platforms in search of a property.
Find an expert and craft a social media strategy for realtors!