As stated by the marketingdigibook, as of Q3 2018, Twitter boasts of more than 326 million monthly users and features 500 million daily tweets. What's more, each tweet possesses a lifespan of 18 minutes and every single moment more than 7,000 tweets are sent out.
So, in short, when it comes to engaging with customers or people Twitter offers a plethora of opportunities. This is why for brands or start-ups looking to expand their business Twitter is a good option to pick for targeting audiences.
Now, whichever industry or sector you belong to if you haven't conducted Twitter marketing before chances are you're contemplating the following queries:
Will Investing in Twitter Get you Business ROI?
How can Twitter Help You Grow Your Enterprise Name?
What are the Most Effective Twitter tips 2019 for Your Business?
Well considering all these queries at hand, it is best to understand the answer to each question thoroughly to frame an effective twitter marketing strategy. Thankfully, this blog has the answers right here!
Let's Get Started :
Will Investing in Twitter Get you Business ROI?
As mentioned by, blog.statusbrew Twitter boasts of nearly 300 plus active monthly users and hence, it is a great platform to communicate with target audiences. What's more? For small brands who have limited funds, Twitter offers a cost-effective platform for promotion of a product or service.
This is why numerous small brands have been using Twitter for improving their brand exposure. The best part if one learns to effectively utilize the Twitter marketing tips 2019 then chances of improved brand ROI are multifold.
Now, for any brand, the basic Twitter advertisement goal includes the following:
Improving brand awareness
Creating a positive brand opinion.
Boosting community
Generating leads leading to more sales.
How can Twitter Help You Grow Your Enterprise Name?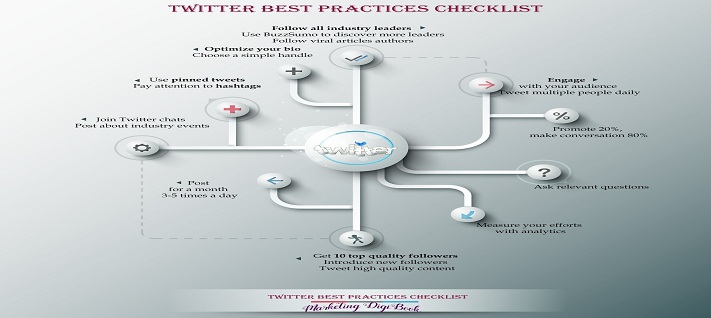 Source: images.squarespace-cdn
Without beating around the bush, here are every reason why investing in Twitter marketing is beneficial for your brand in 2019.
Read on,
1. Customer Connection
Twitter is growing big every moment, and today it isn't just for staking celebrities posting their options. Numerous brands and industries are using it for connecting with customers to generate sales.
From customer acquisition to retention, Twitter can assist a brand in understanding customer requirements, and issues. This assists in improving customer connection and framing digital marketing strategies that lead to more conversion.
2. Improve Customer Support Channel
Twitter is one of the best platforms when it comes to analyzing people's opinion on your brand. Marketers can find out if customers give positive or negative feedback on product or service. In the case of negative opinion, advertisers can instantly fix that without letting it escalate into something bad.
Also, monitoring audience reaction on Twitter helps marketers implement a foolproof social media marketing policy that can bring in organic leads.
3. Enhanced Brand Name
Twitter marketing let's one select demographics and provide promotional ads that assist in improving brand name. How? Well, by targeting the right audience you can notify them of your brand and boost brand awareness completely.
Moving on, now that you've established exactly why Twitter is ideal for brand marketing in 2019, time to do it right.
What are the Most Effective Twitter tips 2019 for Your Business?
Pick the Correct Header Image, Handle and Profile Picture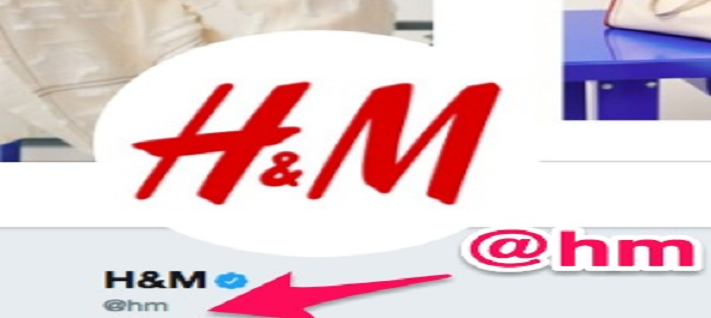 Source: neilpatel
As stated by neilpatel, the key to more Twitter exposure is having a short, simple and recognizable handle. The reason being your handle will be used to discover your page, so a complex one will likely make your audience forget it.
Now, the trick here is to use the same name you use for most of your social media profiles. This will prevent your audience from being confused. In case your brand name has characters that aren't applicable in the handle, simply shorten it to the initials.
For example, take H&M! The "&" is not applicable in the handle, so the company shortened it too "@hm."
See, H&M is easy to recall, and the handle is even shorter. So, with this clean and crisp handle name, it is easy to recall and remember.
Use Twitter Analytics
By now, you might know the importance of analytics or might even be using Google Analytics for tracking your website performance. Similarly, measuring analytics on Twitter is a great way to find out what's resonating with your users and, and analyzing content performance.
The stats available will showcase, the number of engagements, impressions, mentions, new followers, profile visits, website clicks, and understand user demographics. This will assist you in firstly framing a valid social media marketing policy, and secondly, comparing the month-to-month analysis to bolster engagement.
Use 280 Characters to Your Advantage
As per markettap, Twitter now uses 280 characters instead of 140, and this is beneficial for brands that wish to express themselves. Often with 140 characters, it can be hard to define the actual characteristics of a brand.
Thankfully with the extra space, one can get creative and write engaging social media posts to improve brand awareness.
Note: Do not go overboard with your Twitter content and be cautious when it comes to using too many hashtags. Hashtags are important, but for limited use only; for best results opt for using 1-2 hashtags to boost 2X engagement.
Optimize Bio for Better Visibility
The bio of your company needs to pack a punch to garner the attention of target audiences. For example, take 360 degree digital marketing expert Neil Patel. His Twitter bio is sweet, crisp, to-the-point and accurate.
When users click on it, they exactly have a glimpse of what they are getting into and hence, the web audience isn't left confused. To frame a killer bio within 160 characters you need to consider the following elements:
Be accurate, tell your audience exactly who you are.
Use subtle humour, personality, but make sure to be original
Add relevant hashtags, so that people can explore you when they search using these.
Do not be afraid to rag other brands, and brag very cleverly without being overbearing.
Work with Influencers
Websites like Postplanner verify the importance of influencer marketing over social media. Influencers already have a ton of followers at their wake, and collaborating with a brand means some of their followers will move towards your brand if done accurately. This is why collaborating with an influencer is very vital for Twitter marketing in 2019.
Now, the trick is to pick an influencer who is relevant to your niche. In this way, your brand will already have the target audience they need, and your selected influencer can promote your service/product the right way.
To find pertinent influencers, go to SocialBro, and find influencers by signing up. Once you do link your account and identify influencers that are most useful for your brand.
Tweet When the Hour is Ripe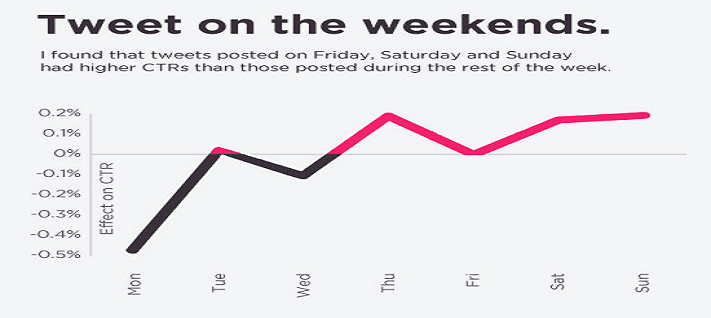 Source: neilpatel
Whether it is Instagram, Facebook or Twitter, at certain points in the day or week people are most likely to be active. This is called the peak hour where users will interact with your posts most.
Now, as per Buffer, posts made between Friday-Sunday have the most click-through rates than posts made during the early days of the week.
However, during normal days, studies have showcased that posting between 12.00-6.00 PM is most applicable. While others claim that 12.00PM-3.00 PM is the ideal time for posting between Monday to Friday.
Host a Chat Session on Twitter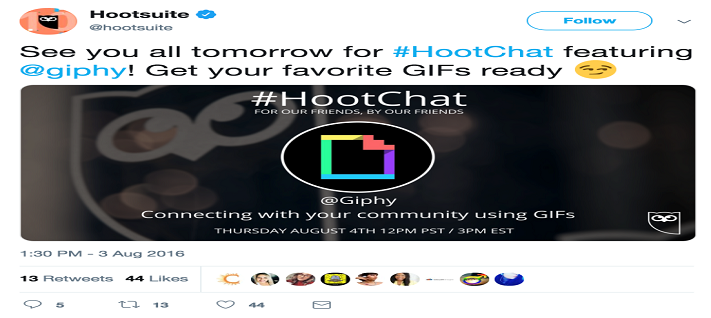 Chat sessions are a great way to communicate with the target audience and find out what opinion they hold on your brand. So, to generate a chat session, choose a topic, and pick the date and time. After this pick an applicable hashtag and share this information with your audience.
This will help your existing audience participate, and bring in new users who are searching using that hashtag. Now, your audience can share, tweet or add pertinent comments and give your brand a proper exposure.
Promoted Tweets
Twitter advertisements are a great way to find target audiences and also aid in making posts discoverable. To do this, the best option is to use Twitter Ads and Promoted Tweets.
Twitter Ads
Twitter ads are a good option if you're using numerous Tweets to obtain a specific business goal. These include video views, audience targeting, website conversions, and app installs.
Promoted Tweets
Promoted Tweets are featured in Twitter Streams of specified users. All you require is paying a monthly fee and your promoted ads will reach the type of audience you wish to engage with.
On this note, now that you're aware of the basic Twitter tips 2019, use these properly and improve brand engagement considerably. Whether you're a startup or an existing user, the proper use of Twitter marketing along with optimized social media posts can ensure your brand good exposure.