Table Of Content
Let's get started!
In this competitive world, every single business is struggling to make its footprint on the web world. Heating and cooling businesses are no exception. All they want to please Google lord and secure a promising rank on search results. But how to do that? Unfortunately, no magic button is there to place your website on the first page of google. All you can do is incorporate HVAC SEO Strategies to give a boost to your online visibility.
Though heating and cooling SEO takes time and serious dedication, still you should embrace it to increase your sustainability in the market. Before jumping to the HVAC SEO strategies and steps, take a look at what is HVAC SEO and why it is important to hold rank #1 in Google.
What Is HVAC SEO?
Heating and cooling business owners want their website to be present on the top page of search engine results, so they opt for SEO.
This involves keyword analysis, link building, website optimization, and few other techniques that boost website rank. It can be done locally to reach location-based customers.
Why It Is Important To Rank #1 In Google?
Though there are many search engines like yahoo, Bing still Google is considered a search engine giant. Major searches happen on the google search engines, so get rank 1 in Google is important to pull more business. Here we have jotted down top reasons why an HVAC business should target for the first page of google. Get ranked on the first page of search result gives-
Better visibility

Better business

Stay top of the mind

Maximizes the chance of conversion

Increases brand authenticity

Drags traffic
Though there are plenty of ways to increases the chance of securing rank #1, in this blog we will aim at HVAC SEO. Scroll down below to know ins and outs of this particular technique to target google's first page.
We will break down all SEO tactics for you, let's cracked!
HVAC SEO Strategies To Secure Rank #1 In Google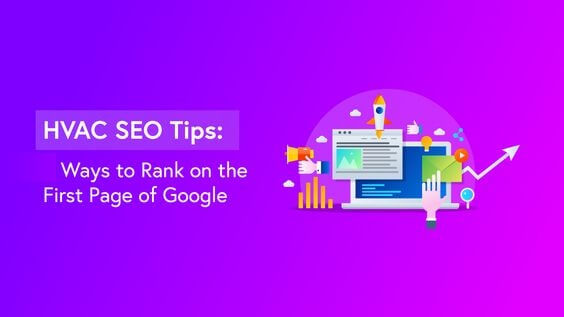 SEO for HVAC involves few strategies that should be done methodically to boost its visibility and expand its reach. We will go step by step to know what are top HVAC SEO strategies. They are –
1. Design Website For HVAC Business
Your website is your online business identity. Explain all the necessary details and make it user-friendly. Talk about what services do you offer, to whom, and at which location. Provide up-to-date contact information. A clear call to action button adds a punch, it tells your audience what should be their next step.
Make sure you are sharing your positive testimonials on your site. Possible customers may find them as social proof. Build your site professionally and follow the HVAC SEO rules (we have mentioned in the next point) to optimize it.
2. On-Page SEO
On-page SEO helps Google to understand the purpose of that blog. Keyword placement, long-form content plays are an integral part of it. Here are few points you must know about it-
Keyword Analysis

– Choosing the right keyword and use them wisely is the first step of HVAC on-page SEO. Brainstorm your keywords and use keyword analysis tools like google keyword explorer, Ahref, or others. Choose such keywords that have high search volume and low competency.

Keyword Placement

– Don't stuff your keywords here and there to be visible on search results. Maintain keyword density and know the exact position where you should use them. Include them in the title tag, meta description, heading, and URL. Add your primary keywords and LSI in your web content too.

Title Tag– It helps in SEO ranking.
Meta Description– It is a short content that summerize that your website all about. As an HVAC business owner, you should include your LSI keywords in your meta description.
Heading Tags– With coding these tags instruct the web browser how to display the content. This includes blog post titles, page titles, subheadings, etc.
Schema – It improves search engine read and represent your page in SERP.
URL – Optimize your URL by putting primary keywords into it.
Create Long-Form Content- Search and your HVAC clients both love fresh informative content. Make sure you are creating an engine long-form that is loaded with information. Publish SEO-optimized blogs to drag the traffic to your site. Here are few topic ideas for your HVAC business–
Content Marketing: Content and SEO are inseparable. Poorly written content can pushes down your search visibility whereas in-depth relevant content adds a glow to your site. It is just not about preparing content but how do you market your content for better reach is also important. You can embed your published content in your email campaign. Don't miss the chance a show your informative content to the world.
3. Off-Site SEO
Statistics tell us 70% of website rank largely depends on off-site SEO, and 30% on on-page SEO. Page volume use includes different tactics that you can do for your website like link building, brand building, PR, Social media sharing, forum, guest blogging, and review management.
Let's know about them a bit more;
Link Building- Backlinks are like a vote from another website. It builds authenticity in the market. Getting backlinks from 10 authoritative sites is far better than getting links from 100 lesser-known sites. Don't bound yourself with the number of backlinks rather maintain quality.
Guest Blogging-

Create a fresh batch of content and approach to a high authority website for guest blogging. It helps to bring the traffic from other websites too.

PR- Traditionally digital PR and SEO were a different factor but recently it has merged. The PR team is using SEO to promote stories and other assets.
Social Media Sharing- Make sure you are posting unique and engaging content on social media. If they get shares it expands your business reach and eventually improves your visibility.
Forums-

Though the USG content (user-generated content) acquires no-follow links off-site SEO is much more than a link. Stay active in forums to build brand awareness and nurture your leads.
4. Local SEO 
If you are a location-based HVAC contractor, then optimize your website with location-specific keywords. Your local consumer may search about ' best HVAC services near me '. Make sure your website appears on the first page of the search result. Local SEO for HVAC Contractor is boon when you want to target a target geographical area.
5. Technical SEO
Increase Your Website Speed- Use different tools to measure your website speed. It should not take more than 3 seconds to download. In case it is taking a longer time, delete oversize files and Images for better results.
Internal Links- Internal links are the links that help users to navigate from one page to another. It gives them a better navigation experience and spread internal juice. Interlinks make your users stay for a longer time on your site. Google gets an idea about your site structure with these links and it sets a hierarchy of your site. Though it is helpful but you should not put too many links on one signal page.
Site Navigation-

Site navigation gives a better site experience to your user. It helps them to identify where your blogs are, product listing, pricing, sign-up forms, and contact info. Check the connectivity between user experience and site navigation.

Ideally, the user starts from the homepage then navigates to other pages for more information. Craft your HVAC website homepage with compelling content and make it easy for them to navigate. Maintain a clear sequence that can easily understand.
Some Additional Steps You Should Follow To Get Rank #1 In Google
You have been informed about the different spectrum of HVAC SEO so far. There are still few ways left that can help you to fulfill your target. Let's have a look at them.
6. Get An Idea Of The Google Algorithm 
Google algorithm is ever-changing, According to MOZ, there are 500-600 Google algorithm changes per year. So it is a little tricky to handle it. Google announces major algorithm changes but minor ones are still unknown.
Many entrepreneurs think black hat SEO is the shortcut to get the desired rank. But the truth is your site can be penalized by Google if you get caught.
So it is advisable to educate yourself a bit about the latest google algorithm updates to stay on track.
7. Assess Your Current Positions 
Before you fix your HVAC website position on the search result, assess your current position. Make an effort to know on site's current position on google. Based on that create a plan of how you will take action to improve it.
8. Measure Your Metrics 
All your effort gets notices when you are on the right track. Your metrics will tell you the whole story and help you to understand where you need to be a little more vigilant. Check your website rank, SEO metrics, to be in the limelight.
9. Make It Mobile-Friendly
Most of the HVAC customers search their queries from their mobile. So make sure your website is mobile-friendly. Google search console has a special feature called mobile usability report that will tell you about your site's mobile responsiveness score.
10. Point Out And Fix The Penalties 
Often your HVAC business site gets penalties from google, like relevant links, over-optimization, keyword stuffing. Point out the reason and take necessary action to remove it. It could be a major or minor issue but if you want to be successful with heating and cooling SEO then wipe out all the penalties.
11. Reduce Bounce Rate 
Use Google analytics to check out the bounce rate of your HVAC site. Find out the exit page and try to improve the experience. make sure your landing page holds easy navigation and content is digestible for your customers. Fixing the issue and reducing the bounce rate will elevate the HVAC SEO experience.
12. Make Social Media Presence 
Social media indirectly impact SEO. It's part of off-page SEO which drives traffic to your HVAC site makes your social media presence with popularly known platforms like Facebook, Instagram, and Twitter.
Join industry-related groups and find communities where your ideal buyer may hang out with Target homeowners or real estate agents and make a connection with them. Post valuable content, be helpful, nurture your leads and convert. You can post links that navigate your clients to your websites and eventually they turn to your paying customers.
Post your positive testimonials and engage others to share them. Build brand loyalty and create a buzz about your brand. If you catch good vibes on social media, people will search more about you that will boost your online visibility.
13. Incorporate Video Marketing 
Video marketing has the power to hook your audience's attention. Your future customers may love to see a how-to video on-clogged pipeline clearance, Make a short informative video, and post on social media. You may like to run youtube channels where you can share different videos related to HVAC and plumbing. This will drive traffic to your site and undoubtedly give a boost to heating and cooling SEO.
14. Get Listed On Google My Business
Google My business is a free service provided by Google that helps to be visible locally. Provide your business name, phone number and location, make sure all the information is up to date and relevant.
If your potential buyer searches about HVAC services in that particular area, Google may show up your website based on location, relevance, and many other factors. It really gives a boost to local SEO for HVAC contractors.
15. Build Backlinks 
Backlinks are like a vote from another website. It builds authenticity in the market. Create a fresh batch of content and approach a high authority website for guest blogging and other types of backlinks.
16. Get Online Reviews 
Online reviews are the staple for any online business. Make sure you are providing the best HVAC services in the town. Ask your customers to share their experiences with others. Show up your positive testimonials on social media websites and include them in your email campaign.
Get listed in major review sites like Google, Facebook, Yelp and maximize your chance of getting reviewed.
When people say good words about you it builds your brand loyalty in the market and pulls other customers. Needless to say, it boosts your online presence and helps in HVAC SEO.
How Long Does It Take?
You can see the result within 6 months, after running a campaign. Be patient and consistent. It takes some time to rank. Make sure you are doing it professionally with all the necessary steps.
Why Should You Hire A professional?
When you are trying to do HVAC SEO for your site, you need to know all the white hat SEO techniques. Sometimes you may find it confusing or you may not have that knowledge properly. In that case, you may want to hire professionals, go for HVAC marketing company.
They provide a complete SEO package that includes all the necessary steps to grow your business. Let them assess the situation for you and recommend the best possible recovery route for HVAC SEO.
Wrapping Up
Heating and cooling SEO is a cost-effective method that drives organic traffic and boosts online visibility. If you are an HVAC contractor planning to sustain in the market for a long period then doing HVAC SEO will be extremely beneficial for you.
Though it might take some time to see the result, be consistent and proceed strategically. Do white hat SEO to get the desired outcome. We have provided you some additional SEO tips that will keep the game on.
Implement them and track everything to know what works best for your HVAC business. We are pretty sure you will see a significant result in no time.