Table of Content: HVAC Social Media Marketing Ideas
Let's get started!
Imagine you wake up one fine morning and find a series of inbound leads knocking at your website, imagine people are praising your HVAC business in a certain way, that pulls more customers to you. We know this dream gives goosebumps to every HVAC contractor, you are thrilled to get such days in your life but will it be ever possible?
The answer is Yes!!! Use the goodness of HVAC social media marketing and see how the magic happens.
When every business on this planet is having a hard time setting their foot steady in the web world, social media marketing comes as a boon. Like all other businesses heating and cooling companies are also embracing social media to create brand awareness, making connections, nurturing their leads, and finally converting them into loyal customers.
Still not very sure about how I should leverage social media as an HVAC business owner? What is the exact roadmap? Why should you shake your hands with this new method of digital marketing? Well, scroll down and check this HVAC social media marketing blueprint to grab all the little nuggets of knowledge that you were hunting for.
HVAC Social Media Marketing Ideas – Boosts Your leads And Sales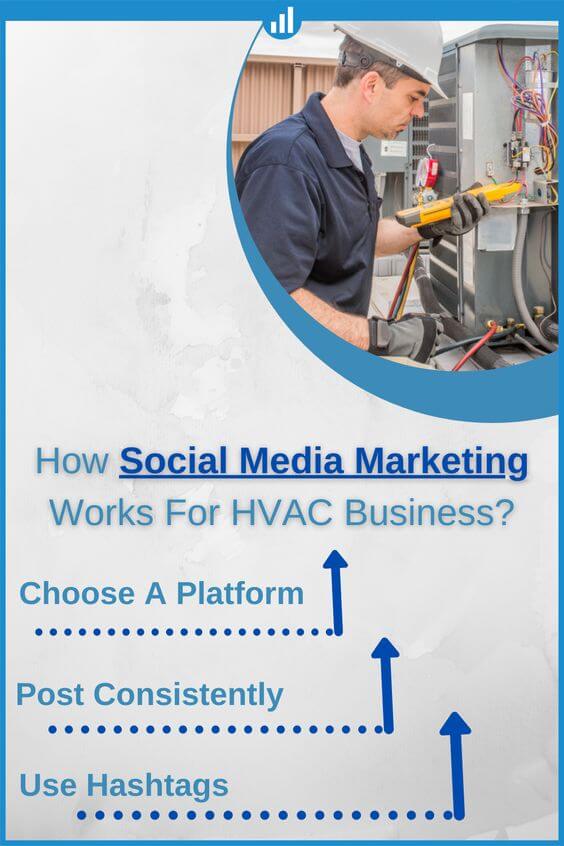 Data by Simply Measured shows that brands with more than 100K social media followers have grown 163% in the last three years. Social media marketing has become a vital part of any marketing strategy. It should play a pivotal role in HVAC marketing strategy also.
Millions of people are interacting with the posts, images, videos shared on social media platforms like Facebook, Twitter, Instagram, Youtube, etc. Your HVAC company can directly connect with its audience to build trust and nurture them. Treating social media platforms as a business medium can help them to gain free leads for their business.
Here, we have broken down the whole HVAC social media marketing ideas into small easily digestible parts, let's have a glance-
Choose Your Platform

Create A Strategy

Use Hashtag

Create A Funnel

Tag Big Brands In Your Post

Post Consistently

Use High-Quality Visuals

Video Content Drag More Engagement

Include Customer Reviews/User Generated Content

Create and Engage with Communities

Celebrate Special Events
Are you excited to know more about them? Get ready and buckle up yourself, let's dive deep into it.
1. Choose Your Platform
The most crucial part of HVAC social media management is to choose social media platforms according to the needs.
Initially, you can focus on one or two social media channels, gradually add more accounts as you get to know how HVAC social media marketing works. There are many social media channels but the most popular ones are –
Facebook

Instagram

Twitter

Youtube
– Facebook
The king of social media Facebook has 2.2 billion active users. As an HVAC marketing company, you should create a business page on Facebook with every detail about your brand. Use Facebook cover photo as a banner, mention your product and contact details on it. Find out a few industry-related groups where your potential buyer may hang on, and deliver informative content to build a rapport with them.
– Instagram
If you are targeting new homeowners especially young generations, Instagram would be your best friend. Preparing high-quality images or short videos, pairing them with the proper hashtag is the secret sauce of HVAC social media management, particularly for Instagram.
– Twitter
Either you want to share recent updates about the industry or want to find influencers for your business, Twitter will never disappoint you. Tweet with the relevant hashtag, share your influencer's blog, or tag them in your post. HVAC companies can choose to promote their brand on Twitter as well.
– Youtube
Anytime homeowners need to watch a video on how to install a filter in the air conditioner, they hit Youtube. HVAC social media ideas can focus on youtube to drive organic traffic to their website. Upload relevant videos with subtitles and caption, treat your youtube channel as your mini-website. Don't forget to design your thumbnail attractively.
2. Create A Strategy
Social media is a fast-moving and ever-evolving platform. Posting anything at any time will not cut in the Industry.
As an HVAC company, you need to set a plan for HVAC business that generates few inbound leads for your venture.
Analyze your audience, what is their interest? What problem are they facing? How is your product going to solve that? What are the things they talk about?
Pointing out these answers will help you to create an HVAC social media strategy that engages potential leads. Competitor analysis could be a great way to know what kind of social media posts are getting high engagement.
Instead of posting every single day try to post in a particular interval. Use social media insight reports to know about your buyers' demographic, at what time they are online. A killer content strategy will help you to sustain for a long time in the Industry.
If you are new to HVAC business looking for some social media marketing ideas that will crack the game, try these ideas-
DIY HVAC Maintenance Tips

Industry News/ Recent Updates

Customer Spotlights

Facebook live for HVAC maintenance tutorial
3. Use Hashtag
The effort behind creating a killer content strategy can get wasted if your post is not reaching the target audience. Unfold the power hashtag strategy to solve this kind of issue.
Social media hashtags are the way to categorize and amplify your content's reach. It is like a signal to social media platforms to know what your post is about and show it to the audience.
You may want to connect website URL links with the hashtags that bring traffic to your landing page. For HVAC social media marketing focus on hashtags like-
4. Create Funnel
Use social media to direct traffic to your blog. How? Create a pillar blog post and promote it on social media or add your website link along with the post. Your leads may click the link and reach your website.
Don't forget to embed a simple sign-up form on your website that captures basic information about your possible leads.
Now create a super active email workflow that educates, entertains, moreover nurtures leads, and eventually converts. The best HVAC social media marketing ideas can take advantage of the sales funnel to drive more traffic into their business.
5. Tag Big Brands In Your Post
Small HVAC companies can tag big companies in their posts. It's not about tagging your competitor but tag the companies you work with.
This strategy will expand your post's reach and build brand awareness. It is a mutual benefit strategy. Find out some giant companies in your niche and note their social media handle. Tag them when it seems appropriate.
Use these HVAC social media ideas to get more attention.
6. Post Consistently
Post anytime you feel like it will not stand you out in the competitive market. You posted something today and then forgetting about social media for a week may cost you anything.
As an HVAC business owner, you should have the proper knowledge of HVAC social media management. Creating a content strategy and plug every content into a particular schedule will keep things organized and easy to manage. There are tons of social media content scheduler tools available in the market. Like-
Hootsuite

Sprout Special

Social Blade
Choose anyone that serves your purpose. Schedule all your HVAC social media ideas and post consistently. Track which type of content is getting more love from your leads, create such content frequently. Be consistent with your effort to see significant results.
7. Use High-Quality Visuals
Social media users prefer high-quality images as it becomes very easy to click the quality photo with a smartphone. No blurry photos or poorly taken photos. Stock photos should not be used as it is considered an inauthentic photo. Post only high-quality authentic images for HVAC social media marketing.
8. Video Content Drag More Engagement
Video content has the power to hook the audience for a longer period. Try to post short video clips or consider a Video-based platform like Youtube to attract your leads.
Make short videos on FAQ or tutorial videos. You may want to upload it to your youtube channel. Share your video content on Facebook and Instagram also.
Instead of sharing youtube links, share the original videos because the Facebook algorithm loves the original post. They will allow you to design a bigger thumbnail also. Video marketing or using Video content is a foolproof way to get success in HVAC social media marketing.
9. Include Customer Reviews/User Generated Content
Customer reviews or user-generated content are considered the holy grail in the field of social media marketing. Word of mouth has ventured online as an online review. Potential buyers rely on online reviews before they purchase anything.
As an HVAC company asks your previous customer or existing ones to share their feedback with others. Positive reviews should be highlighted and negative reviews need a quick polite reply.
Connect directly with your leads and elevate their experience is the best advice when it comes to HVAC marketing.
10. Create and Engage With Communities
Set a good bond with your possible leads – this HVAC social media idea can give you more business for sure. Social media is a great place for creating a loyal audience base. Reply to your comment, DM, chat with your buyers, make them feel special, engage them with your post are the routes to reach HVAC business success.
Nurturing your leads and creating a helpful community will give you better brand awareness and credibility in the market. Share helpful information that your leads are looking for but nobody is talking about it- this trick will give you an extra boost to your HVAC marketing engagement rate.
11. Organize Contest And Giveaway
Add a little more extra excitement to your social media presence by conducting contests and giveaways. With HVAC business you can organize a contest like your followers have to post a photo of their heating and cooling equipment together.
The image that receives the highest share and comments will be considered as the winner. Ask your followers to post an image with contest-specific hashtags. A prize could include a free inspection of any part of a discount coupon from the host.
It will help you to get user-generated content and if your followers tag you in their post or use contest-specific hashtags your online reach and visibility will improve.
If your customers are happy with your product/services, they will engage with you virtually. Even they don't mind sharing their journey with your brand in their personal social media feeds.
Another way could be using Facebook live, ask your possible buyers to share your live video to their wall and tag with. Following this trend with a proper hashtag is another's effective social media marketing idea.
12. Celebrate Special Events
Who does not like to be treated specially? Anyone. Same for social media. Entice your customers to follow and like your company page on social media can provide a fan-only offering.
Suppose you are an HVAC company whose birthday is in the upcoming month, announce a special discount coupon to those who have already subscribed to your newsletter. Encourage your current followers to subscribe and spread this word to their friends and family.
HVAC social media marketing works in both ways- organically and paid ads. If you are new in the market struggling with funding, adopt organically otherwise you may think to accelerate your business growth by running paid social ads. Let's show you how you can level up social media marketing games by running paid social media ads.
Run Paid Social Media Ads To Boost Your HVAC Business
Social media platforms like Facebook, Instagram, Twitter offer paid advertising to boost ROI. Social media marketing for HVAC business includes paid social media ads too, running targeted campaigns can give you leads in no time. Let's have a glance at how paid ads can help you-
Before you run a marketing campaign social media will ask you to set your marketing objective it could be lead generation, brand awareness, or anything. Be crystal clear about the purpose of your campaign.
Targeting a specific audience demographic or targeting a specific location and making your marketing campaign more precise. As an HVAC company, you could easily target new homeowners as an audience.
Facebook provides a unique code called a Facebook pixel, you need to embed this code to your website. It will fetch data and track your actual user. Facebook pixel could be a game-changer in HVAC social media business.
The best part of paid social media advertising is that you can spend as per the depth of your pocket. Facebook charges a minimum of one dollar per day. Set your budget properly and schedule your campaign.
Try Different Advertising Format:
There are a variety of ad creatives you can pay with-try single image ads, video, or carousel ads. HVAC businesses can take advantage of carousel ads to describe products.
Track your metrics to measure your campaign success. Find out what works and what does not work.
Optimizing your campaign, performing A/B Test can be the ways to create a more effective campaign.
Well, As an HVAC business you are informed enough about how social media marketing can add a spark to your HVAC business. Still not convinced why you should go for it? Here are more reasons for you –
As a business owner, you understand the value of every penny. Let me tell you HVAC social media marketing is something that allows you to get leads for free!!! This reason alone is strong enough to force you to use social media marketing for your business.
Nurturing your audience and making them aware of your brand could be the best social media marketing tips that you can get.
When you share your customer's feedback, testimonials, or user-generated content you build credibility for the brand on social media.
Connect With Your Audience:
Replying to your messages and DM is the best way to connect directly with your audience. It shows you care for them. Ask your customer about your services, any suggestion from their end is always welcome.
Send A Direct Referral To Your Blog:
Send traffic directly to the website from your social media platforms. Create a landing page and sales funnel to convert the leads.
Needless to say, Social media marketing can improve your website's SEO health. HVAC companies use social media marketing not only to get awareness but also for better visibility in search engines.
Better visibility means better business. So social marketing can be an authentic way for HVAC business to get noticed in search results.
Promote your HVAC brand tactfully on social media. Follow the 80/20 rule, 80% of your content should focus on delivering informative, educative, and entertaining your customer whereas 20 percent can be promotional. Promote your brand with paid advertising or by organizing contests and giving away.
Keep Customers Up to Date:
Share recent industry updates, news, and what's new in the market with your audience.
Be a powerhouse of information, your potential leads will follow you if they see you are more knowledgeable than others. HVAC businesses can share what kind of heating and cooling equipment is selling most in the market, what recent technologies have been used, etc.
A business owner's prime duty is to find what is trending in the market. from the social media marketplace, you will get an idea about your ideal customer avatar. Marketplace Insight is always helpful for deciding your next move.
Final Words
If you want to thrive digitally, you should make an amicable relationship with social media. Every social media channel has its own feature. Initially start with fewer numbers and try to utilize them as much as possible.
Make social media work for your business by generating organic HVAC leads or running targeted campaigns. The more strategically you use HVAC social media ideas, the more satisfying outcome you get.
In case, you feel perplexed to use this superpower for growing your business, seek help from professionals. They will show you the right path to use HVAC social media management that accelerates your business growth.
Moreover, Social media marketing for HVAC has changed the whole marketing game.