Table Of Content: Plumbing & HVAC SEO Strategies To Boost Your Sales
Let's get started!
Every query on the internet starts with a search in a search engine. Your possible leads may search about your HVAC business on the web, what if they could not find you? What if they see you have not a good position in the market?
That thought might give you a good shake, but what is the formula to stay top of their mind?
Go for plumbing and HVAC SEO. Yes! That's the route to get more visibility and better search results. If you are planning to be in the game for a longer period, follow the search engine optimization technique and pull more business.
As an HVAC contractor you might not have prior knowledge of digital marketing particularly in HVAC SEO, Consider Plumbing marketing companies who offer end to end guidance to make your website visible in the pool of search results. Talk to them and discuss your requirements, the expert will assess the situation and guide you thoroughly.
If you are someone who loves to know a bit before jumping for a white label marketing agency, keep reading to explore how plumbing and HVAC SEO can double or even triple your sales.
Let's start with what Plumbing and HVAC SEO is?
What Is Plumbing And HVAC SEO?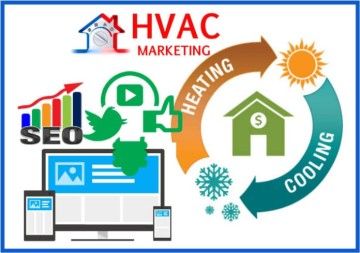 You might be familiar with Search Engine Optimization or SEO. It is a technique that optimizes your HVAC business website, acquires quality backlinks, and helps to get better visibility by uploading SEO-optimized content.
SEO is not magic, rather it's a science to increase visibility and get rank on the first page of search results.
You need to work on a few things to secure your position on the search result, they may include keywords analysis, link building, image optimization, website speed maintenance, mobile responsive website.
Research has shown 75% of searches are done through Google, while 95% of the traffic hits on the first page of search results. 67% of searches go with the first five search results. So it is crucial to get rank on the first page of Google.
The task is not huge, but plan it professionally and proceed one step at a time. A well-planned campaign takes a few days to few months to show the result. Make sure you are doing it properly. You might want to hire professionals for this purpose. Be consistent and put an effort to keep your good brand image.
Why Is It Needed?
Till now you have got an idea about what plumbing and HVAC SEO is, now focus on why do you need this? Let's know the reasons –
Stay top of the mind-When your business website gets ranked on the first page of google search results, there is a possibility that you stay on your customer's mind. If they search with those targeted keywords, your site will be visible.
Get organic leads – Doing HVAC plumber SEO is not an easy task, it might take some time. But once you get the desired result, you may acquire some organic leads. Often business owners rely on the marketing campaign, but it will only give you results until the campaign is active. So incorporate SEO techniques to sustain for the long run.
Cost-effective technique: Expect hiring a professional you don't need to invest anything for this purpose. It is the most cost-effective way to do marketing.
Above mentioned reasons are impressive enough to do HVAC & plumbing SEO. There are two types of SEO available in online marketing that you can apply in your plumbing & HVAC business to get more leads or boost your sales. Let's have a bit of an idea about them.
White Hat SEO vs Black Hat SEO – Which One Is Better For your HVAC & Plumbing Business
White hat SEO is the smartest technique that pulls a flow of traffic to your site. It boosts your site visibility by providing them great content and follows Google's invisibility guidelines. –
If anyone tells you that SEO can be a get-rich-quick scheme, stay away from that. Often companies follow few tactics that are simply gaming on Google and use certain directories, this technique is called Black hat SEO.
It's not the ethical way of doing website optimization. If you get caught, your business will be penalized by Google. So make sure you are following the white hat SEO technique to grow your business.
Types of SEO You Should Follow For Your HVAC & Plumbing Business
There are two types of SEO in online marketing – one is On-page SEO and the other is Off-page SEO. Both have their own impact and techniques. Scroll down below to know more about them.
On-page SEO – For Plumbing And HVAC
On-page SEO focuses on website optimization and individual page optimization. Image if you have a garden but its gate is broken and not that welcoming. Will anyone enter your garden? Will anyone get to know about how beautiful flowers you have in the garden? Similarly, your website is your online toolkit for advertising, without doing SEO into it, how will you attract more customers?
Let's have a look at some on-page SEO factors that will help you to boost your plumbing business organically;
Keyword Analysis
You may target new homeowners for HVAC installation or existing customers. Choose your profitable keywords. Take help of keyword analysis tools like Google Keyword planner or there to find out high search volume, low competency keywords.
Content Creation
Once you have got your keywords, create SEO-rich HVAC & plumbing content and put those keywords into it. Make sure you are not stuffing keywords but use them wisely. Try to put them into your website copy, social media content, email campaign, and others publish SEO optimized blogs to educate your customers.
HTML, Title Tag, and Meta Description
While doing HVAC and plumbing SEO, incorporating keywords only into web content and blog is not enough. Include them also in the title tag and meta description.
Check the speed of the site, delete all oversized files and images to fasten its speed.
Most people do their searches from mobile, so make sure you have a mobile responsive website.
Mobile Optimization
64% of HVAC searches start on mobile. Make your HVAC website mobile responsive.
Your possible local leads may search about HVAC services from their mobile, make sure your site gets rank on the top results. Make sure it is user-friendly, your customers can click and navigate with ease. Check its mobile responsiveness on Google's mobile-friendly test.
Off-Page SEO – For Your HVAC and Plumbing Business
If you want to taste success do both on-page and off-page SEO. It is said that ranking depends about 70% on off-page SEO. Here are the tactics you should follow. They are-
Backlinks
Backlinks are like a vote of another website, the more backlinks you acquire to build your credibility in the market. It plays a great role in HVAC SEO to creates your authenticity.
Brand Authenticity
Make fresh content and approach to high-end websites for guest blogging, if they publish you will get a backlink from them.
Link Quality
Don't just run for backlinks, watch their quality too. Getting10 backlinks from well-known businesses are better than getting 100 backlinks from less-known websites.
Bounce Rate
When people are coming to your website but they are not engaging just leaving from the home page then your bounce rate gets high. Point out the existing page and fix the content issue on that check the relevance and navigation part as well.
So far we have told you every little secret of having a great HVAC and plumbing SEO. Now it's time to offer you a bonus target. What if you are a local HVAC contractor? How will you optimize your website locally to get more business? Do local SEO and reach more customers.
How To Do Local SEO For HVAC And Plumbing Business
The first step is to get listed in Google My Business. Give your business name, address, and phone number to register. Make sure you are giving up-to-date and relevant information. Optimize your website by using location-specific keywords. Your possible leads may search for "best HVAC services near me" google may show up your website based on location, relevance, and a lot of other factors.
Make Social Media Presence
As an HVAC contractor, you might wonder how social media can help with HVAC SEO? Yes, it can, it indirectly impacts your SEO result. If you are active on social media and making the best use of it, you might get constant traffic to your site.
When you create a buzz about your business, people may search about it on search results. It sends a clear signal to search engines that your business is gaining popularity, it may secure a rank on the first page of search results.
Monitor the Metrics
Your effort behind HVAC SEO does not get counted unless you track the metrics and measure its success. Metrics include bounce rate, navigation, page views. Analyze your website metrics and monitor how they are performing. Take the help of Google Analytics to get a depth report. Optimize your HVAC website and make it effective to level up your conversion.
Bonus Tips For Your HVAC & Plumbing SEO
Till now you have got an idea about what is HVAC & plumbing SEO and how does it work, here we are offering you few more bonus Tips to level up your SEO game, let's see what are they-
Research your Plumber or HVAC companies and competitor

Audit your existing strategy

Measure your SEO performance

Improve Your SEO Campaign
Knowing them superficially won't help you. Here is more in-depth information about those strategies –
Research Your HVAC Companies and Competitor
The first step of the HVAC marketing strategy is to research your companies and competitors. Note down your online and offline competitors, your company details, goals, services, and target audience. Point out detailed information about these areas, so you can develop a powerful SEO strategy.
Audit Your Existing Strategies
In this step, do an incomplete audit of your present strategy. Find out traffic, ranking, keywords, on-page optimization, and off-page optimization. This audit will help you figure out the issues you are facing. Check the speed of your site, make it mobile responsive, or optimize your title tag.
Optimize Your Website
If you are an HVAC contractor who works locally, then list your business in Google My business, optimized by adding location-specific keywords. Keep an on your sitemap and check content duplicacy. Incorporate specific keywords and prepare fresh content.
Improve Your SEO Campaign
In this step you will try to improve your SEO strategy by putting proper keywords, updating older pages, and making your site user-friendly.
So, we have told you all the important strategies to level up your SEO game. Want some more? Here are few Bonus Tips for you-
Implement all the steps and monitor closely to figure out what is working and what is not.
Takeaway
Plumbing and HVAC SEO strengthen your base in the market. If you want to sustain for a long time, think about this cost-effective strategy that keeps your site customer-ready. Though there are unethical practices as a business owner you should embrace only the smart technique to get the desired outcome.
You need to have a bit of technical knowledge as well as sound content marketing ideas. When you combine both you get a wonderful result. HVAC marketing company also offers SEO for plumbers. In this process, your plumbing business website will be optimized, filled with engaging content so that it holds a rank on top results on search engines.
Outrank your competitors by securing the website, make sure it finds the index to rank in search results. Next, focus on engaging relevant content and prioritize backlinks. Set your plumbing SEO strategy in a way that pumps up your online visibility.
Even if this technique is time-consuming and not so easy still we will recommend you to go for it as it elevates your business growth by boosting your online visibility. Once you hold a promising rank in search results you will be able to drag a considerable amount of traffic to your website. Eventually, it maximizes your chance of a conversion.
Hope this blog has given you a complete guide about what Plumbing & HVAC SEO is and how HVAC contractors and plumbers can benefit from it. Educate yourself a bit or hire someone who has prior experience and can give your thorough guidance about it.