In the cut-throat competitive digital economy, marketers need to harness every nook and cranny available at their wake to beat their competition. One such tool available to advertisers today is social media.
With more than 3.8 billion users on social media, it is evident that if you're not using this platform to your best interest you are losing out on millions of potential customers. While SEO is important for improving search engine listings, you can only get a substantial amount of traffic via this process.
The real way to entice customers and boost brand visibility is via social media. In fact, if you're not convinced check the statistics:
Demographics between 19-34 are likely to follow 95% of brands on social media.
63% of web users expect brands to offer services via social media channels.
96% of people discuss on brands over social media channels.
What's more? Social media humanizes a brand, improves chances of word-of-mouth marketing and gets a business needful exposure. This is why if you haven't invested in social media marketing 2019, it is high time to turn the tide.
However, are you confused about where to begin?
No issues! This blog will walk you through 20 social media marketing tactics, that is bound to give your brand some fame, and money.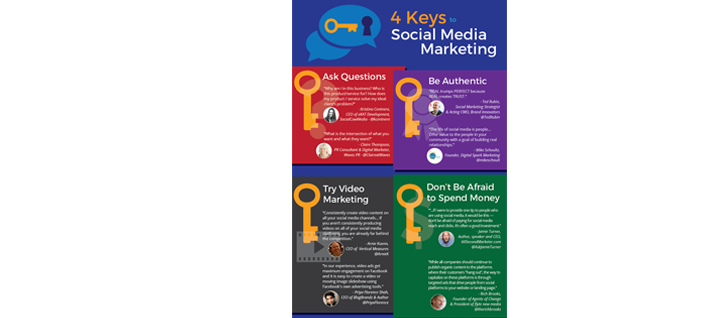 Source: storage.googleapis
Keep Reading:
Optimized Profile Image & Cover Picture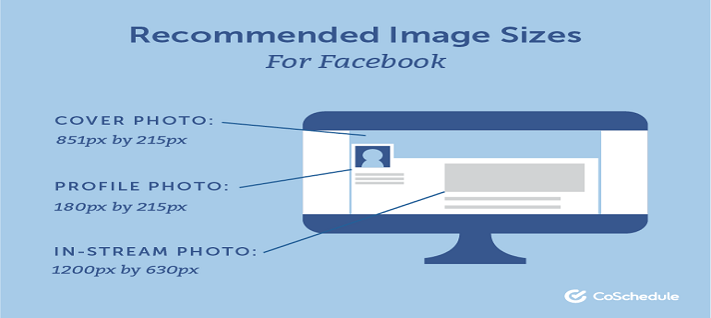 Source: media.coschedule
Optimizing the profile picture and cover photo is especially important for Facebook and Instagram marketing. Remember, as a brand your profile picture's job is not to "sit still and look pretty", it should be optimized and only then will it gain the right visibility.
To optimize the profile image, all you need to do is:
Put up your company logo in high resolution.
Input the ideal size, which is 180px x 180px square.
Make the logo short, simply eye-catching and easily viewable.
For the cover photo, follow these tips:
Maintain the same theme as the profile image
Ensure to size it correctly, for Facebook the ideal size is 815px x 215px.
Input a tagline, or put up images of products or relevant services to describe the personality of your brand.
Maintain a Proper Posting Schedule
 Most major brands post on Instagram 1.5 times per day. For Facebook, 14 different studies claim that brands need to post at least once per day.
So, irrespective of which social media platform you pick, it is vital to post consistently every day to put your audience into a habit. If your audience knows you're posting every Monday, Tuesday, and Wednesday and so on, they are most likely to follow your brand for recent updates.
Impactful Social Media Bio
 When it comes to social media marketing 2019, one thing you need to keep in mind is framing a powerful, humorous or impactful bio. The bio is the USP, it humanizes your brand, makes it see approachable and worthy.
This is why, whether it is Tumbler, Instagram, Twitter, or Facebook, focus on writing a crisp short and useful bio explaining exactly who you are.
Let's take Facebook's example,
There's an "About" section where you can fill out your company's basic details like email, phone number etc. The "Additional Information" where you can discuss what your company offers and does.
Lastly, there's a "Story Section" and here you need to write a short, emotive or houmous paragraph explaining your brand's story.
If you manage to nail these with precision, chances are you'll get good followers.
Post at Peak Times
 As per coschedule, to improve the life of content it is imperative that one posts during the peak hours when content is most likely to be shared and liked. For example, corshedule's blog suggests that posting to Facebook around 9.00 am- 3.00 pm is ideal for attracting the attention of potential users.
Now, as per expertvoice, the ideal time to post on Instagram is 9:00 a.m. and 6:00 pm during the week.
Invest in Video Content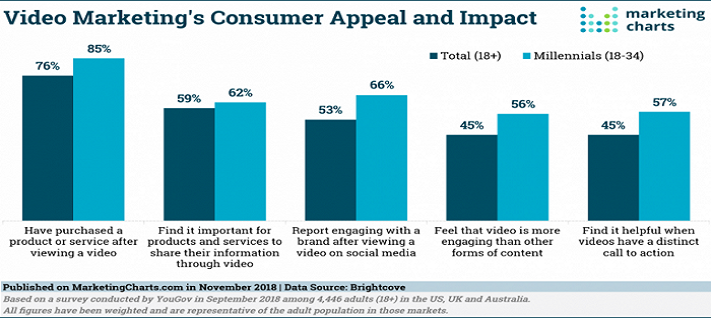 Source: miro.medium
As per vendasta's blog, posting suitable video content is an integral part and parcel of social media marketing. Most social media marketing tactics stress on videos, especially if one is a B2C marketer. Videos are more likely to capture the interest of potential customers, can work with 2D or 3D, are more engaging, can be shared and liked.
What's more? Audiences today respond better to motion visuals, as these tend to hold their interest more than 3S. Further, one can work with beginner videos or entertaining ones that are bound to bring in good traffic.
Use Ad Targeting to Your Advantage
It is undeniable that competition in social media is tough, more so for B2B marketers. Owing to the excessive crowd, and overabundance of brands, often normal content marketing fails to garner the attention of the target audience.
However, there is a way to get the attention of potential customers, but that comes with a price, which is a paid advertisement.
Now, while organic content is vital, paid ads help to capitalize these on social platforms and drive users from websites directly to landing pages.
In-App Targeting Features for Facebook Users
Facebook marketing offers a feature that allows one to target demographics. This means that if you invest in the correct social media marketing agency, they will pick out the most applicable demographics and plant your content on their feed.
So, by segmenting content to the right users, you can bring in suitable traffic to your website and boost conversion considerably.
Use Minimal Hashtags in Twitter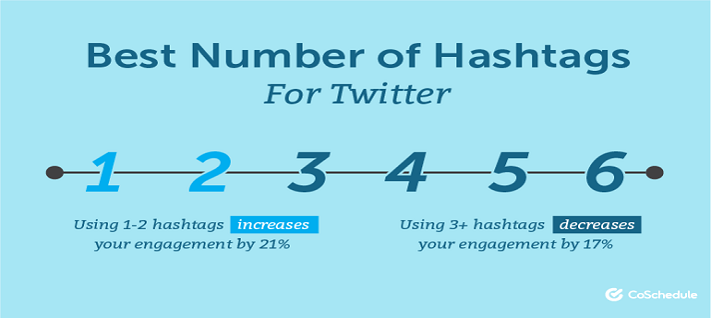 Source: media.coschedule
Twitter is well of hashtags and hence, the Twitter audience has been using hashtags to find relevant brands and services for decades. However, when it comes to your Tweets and bio, using too many hashtags can lead to your brand's ranking going down.
So, limit your hashtags to 1-2 per post, and focus on making content crisp, entertaining and to-the-point.
Use a Business Profile
Owning a business profile is especially important if you are planning to market your brand over Instagram. So, along with a product and service page, ensure to shift to a business profile on Instagram.
This business profile will assist you in proper data optimization, linking your website to the profile bio, add contact info etc, which will help your target audience to connect to you better.
Use a Singular Color Scheme for Image Styling
 Instagram and Pinterest are all about the power of imagery! So, making your grid colorful and attractive is a must to hold the interest of audiences.
However, in the era of minimalism, it is best to stick to a singular color scheme for making your brand appear attractive. The reason being, a singular palette assists fans in easily recognizing your brand.
What's more? It makes a profile appear solid and cohesive, which speaks of a strong branding impression.
Use Influencer Marketing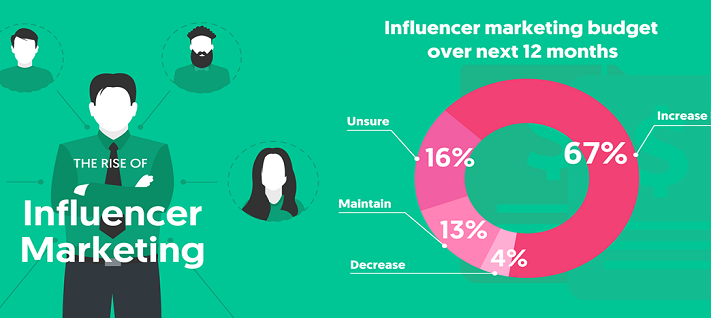 Source: miro.medium
One of the most common and vital social media marketing tactics followed by most brands is investing in influencer marketing. Influencers are easily trusted and loved by audiences. Further, they naturally promote brands and services in a way, which makes it less scripted.
So, influencer marketing helps in:
Developing trust and brand loyalty.
Is not pushy.
Very penitent and focused.
Improves brand awareness
Provides value for target audiences.
Cost-effective
Improves customer acquisition and retention.
Thus, try to pick influencers relevant to your niche for best results!
Engage and Engage!
 Your consumers need to know that your brand is approachable and not snooty! So, what's the best way to win them over than social media! After all, the whole purpose of social media marketing is communication.
Now, how to engage customers? Simple!
Host Q&A sessions
Interact via polls
Feature your customer or generate and share posts made by them to win user loyalty.
Giveaways are Important
 If you're marketing over Facebook, Instagram or even YouTube, then giveaways are very vital to bolster customer engagement. In fact, blogs from easypromosapp state that customers will only become loyal to you if you offer them an incentive of some sort.
You can do this via Instagram, where the most loyal customer will be featured in a feed with a popular influencer, or win merchandises etc. Another way to woo customers is by providing advertisement incentives.
Let's take the example of Google Pay! Google Pay offers coupons to customers in exchange for money where they can win loads of cash. This is a smart way to win over users who have downloaded this app solely based on the incentive.
Input Links in Visual Content
 When you are inputting visual content, the key is to link it so that traffic can be driven back to your website. For example, if you have a YouTube account, link up a short video back to your website.
This will help bring in organic traffic, along with making your content appear more concrete.
Do not Ignore Pinterest
 Are you dealing with a business that involves home decor, beauty, food, travel etc? Then as perblog.hubspot it is important to use Pinterest for generating more sales.
Why?
The reason is, Pinterest over the years worked to convert numerous visitors into buyers owing to its reduced discovery steps to conversion. Further, Pinterest gets more inbound links and hence, drives traffic too!
Not to mention, Pinterest integrates a website with a Twitter and Facebook profile and hence, chances of getting potential followers increases.
Fight the Algorithm
 Google algorithms with it's continual changing rules and regulations keep most businesses on their feet when it comes to ranking. Thus, the trick here is to beat the algorithm, and thankfully social media tactics suggest that you can.
In your social media content, ensure to input Gifs, links, videos, emotions, and wrap them up with relevant hashtags.
You can also stay up to date, by recycling content with older keywords and making these appear on search tabs.
Use Ephemeral Content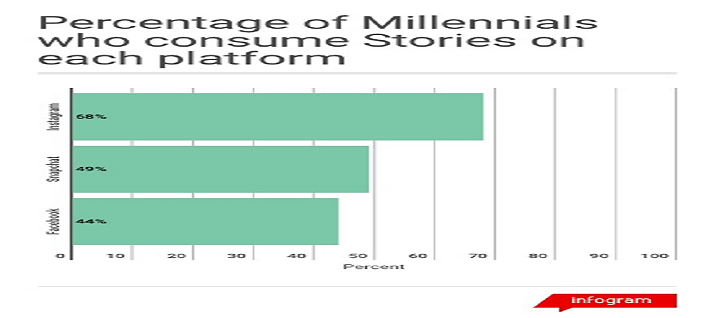 Source: miro.medium
Snapchat, Instagram and Facebook stories have become very popular over time. These are called ephemeral content, primarily because these are short-lasting. This is why brands need to invest in these more so than ever.
Since these tend to vanish overnight, instapage suggests manipulating the audience with these by using (fear of missing out) or FOMO! So, you can use these to promote an ad, host Q&A, give teasers of product trailers all with a link in the bio to get users to your page.
Tags to the Rescue
Along with ephemeral content, an important task is to use the right tags to cultivate more users. For example,
 Use name tags for attracting the attention of clients, retain their focus and reduce bounce rate issues.
 It is vital to invest in geotags as these help you build brand popularity on a local basis. For example, if you have a pizza delivery in Florida then use geotags to attract local customers. You can do this both via an app or your Instagram page with the option of "explore".
Be Authentic
 People on social media do not like scripted content. So, to ensure success in your social media marketing 2019, be real and authentic. Post stories of your brand, which are raw, real, funny and entertaining.
For example, you can post a story of your brand at work, that shows your employees working and having a good time. This will make your audience feel more connected to you, as the incident looks more real than scripted.
Start with a 'Social Listening'
 The act of circulating conversations around certain core topics is categorized under Social listening. So, by using this method, you can find out what makes your audience tick, what they are looking for, and what makes them go grumpy.
Once you have all the insight on the needs of your audience, you can frame a social media marketing policy that will fit the requirements of your users best. This will help your brand get proper recognition and attention from potential users who will then turn into customers.
Well, this sums up 20 applicable social media marketing tips, which is bound to give your brand proper exposure and followers. So, follow these diligently and amp up your social media marketing game multifold.