E-commerce, like the name suggests businesses that are operated electronically. E-commerce changed the way of buying and selling of products. From big companies to local shops, the rise of e-commerce affected every type of businesses. E-commerce is not an option anymore for sellers. Business owners are choosing e-commerce to make their online presence. E-commerce has become their best partner. E-commerce help business owners in smoothing the business operation while increasing their revenue.

Ecommerce has a lot to offer. You only need a website where customers can look and buy your products. And for an e-commerce website, you need an e-commerce development company. There are various advanced platforms available in the market where an e-commerce website could get developed. In this blog, you will know why Magento is the best platform for e-commerce web development.
Magento is one of the leading e-commerce platform built on Open Source technology. Magento fulfills every e-commerce needs and provides a reliable and powerful e-commerce solution to online merchants. Before you hire a web development company for magento development , let's deep dive into it and first know the major benefits of Magento e-commerce. 
Benefits of Magento e-commerce – 
Marketing and Promotions tools
When you do e-commerce, you will have various opportunities to promote your products and you can do it in many ways. Have you heard of cross-selling and up-selling? Don't worry, if you haven't before. Cross-selling and up-selling are the marketing strategies to promote your existing customers. Cross-selling and up-selling help you reach to the potential customers. Read this blog, if you want to know them in detail.
Well, Magento facilitates sellers to up-sell and cross-sell. It also shows related products to the customers. Magento enables sellers to set different pricing for catalog promotions and coupons. Magento enables sellers to restrict these features to products, customer groups, time period, and categories. It also facilitates sellers to manage and generate detailed reports of the coupon usage.
Magento enables sellers to choose Minimum Advertised Price (MAP) for their products. Sellers can also choose to have the landing pages for product categories in Magento e-commerce. It is beneficial when you want to provide additional information about the category. In Magento e-commerce website, admin can choose to allow the product sharing to registered users or to all visitors. 
The payment and shipping facility should be optimized. Magento offers one-page checkout facility on e-commerce websites. Magento offers both types of checkout options, by registered users or by guests. Magento allows users to choose multiple addresses for the product shipment. Buyers can create accounts right before the checkout in Magento websites.
Customers trust a secure e-commerce website while online shopping. Magento provides better and secure payment options to customers. Magento ensures that the transactions are SSL secured on both front-end and back-end.
Magento offers an optimized shopping cart to the customers. The shopping cart gets automatically saved in Magento e-commerce websites. Customers get all the product that they have added in the cart when they login. Customers also get all the tax and shipping charges estimates in their shopping cart before checkout. Magento offers customers to save credit card details for offline payment.
Magento e-commerce websites support third party payment processors. You can choose to integrate your website with multiple PayPal gateways, Authorize.net. Magento enables sellers to accept checks and money orders. Magento offers shipping services integration to facilitate users to know the real-time shipping rates. Sellers can also specify the allowed destination countries according to the products and the payment methods. Sellers can also specify the products that fall under the category of free Shipping. Magento e-commerce website offers every online buyer to track their orders from their accounts. 
When people search for a product on the internet, they get many e-commerce companies in the search result. The websites that are highly optimized for search engines appear on the first page of the search result.
Similarly, when your e-commerce website gets hosted, you want to make your business's online presence. And to increase the online presence, you need an SEO- friendly website. There are several factors that affect the SEO (search engine optimization) of a website.
The web pages of your website should load quickly as it plays a major role in making a website optimized for search engines like Google, Yahoo etc. Attractive and high quality graphics are necessary when you want to sell your product online. Good graphics elements (Images, Videos, etc) also make your website SEO -friendly. Also, your e-commerce website should have responsive and simple UI (user interface) so that the user can easily browse and interact on your website.

Magento has a wide range of themes and templates that a merchant can choose for their e-commerce website. They all have different UI and built to meet different types of business needs.
Magento e-commerce supports SEO- friendly URLs and it also enables merchants to change the URL of the web pages as they want. Magento also generates a Google site map for your business. Magento enables online merchants to add meta data for each product. Merchants can also write mete information for product categories and content pages. 
As Magento is built with the aim of providing better features to both the sellers and buyers, it offers various advantages to online buyers too. Magento facilitates online merchants to add multiple images of a product that buyers can check while browsing. Buyers can also zoom-in product images to see more details.
In Magento e-commerce websites, customers can easily know if the product is available or not. Customers can view grouped products. Customers can easily add products to their wish list. They can even create different types of the wish list in which they want to add specific types of products. This is a great feature when customers want to categorize their wish-listed products.
Customers can also share the wish list with their friends and family. Magento also facilitates customers to share the products on social media or by email. These features are enough to prove that Magento covers all the needs of an online buyer. Magento ensures that customers have the best shopping experience. 
Magento offers a lot of features for catalog management. Merchants can add simple, grouped and configurable products. Magento enables merchants to create different price points for different types of customer groups including wholesalers and retailers. The products would be downloadable with samples. Sellers can choose to add unlimited product attributes according to buyer's requirements.
Magento also offers the facility to create attribute sets of different item types for quick product creation. This feature helps buyers to get the products according to their desired attributes. This feature also makes the product browsing process fast and easy.
For an e-commerce website, management of Inventory is very crucial. Merchants get the idea of product demand and the overstock when they manage the inventory. Magento offers a smooth inventory management facility. You can check the minimum and maximum quantities and the back ordered items. It helps in business operation and in providing better service to customers.
Magento facilitates customers to personalize the products as per their needs. Customer can upload images and text for purposes like monogramming, etc. 
Magento e-commerce websites have great features for customer's accounts. Customers can add unlimited shipping addresses in their account. They can add wish lists as many as they want. Wish lists in Magento e-commerce websites are shareable.
It means you can even share your wish list with your friends via email. Customers can easily see their order history and order status. They can check the recently ordered items in the account. They can also re-order any previously ordered item with ease. Magento facilitates the users to choose the payment method and shipping address for default billing. 
Analytics help you understand how your business is performing in the market. The business analyst helps you understand the analytics reports in a better way. Magento e-commerce websites are integrated with Google Analytics. Magento websites have admin dashboard where merchants can overview the reports.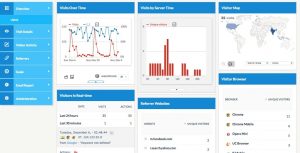 Magento is also able to provide Sales and Tax reports. Sellers also get reports which show data like the best viewed products, the best purchased products in each category.
By choosing Magento, Sellers also get meaningful reports including low stock reports, search term reports, products review reports, coupon usage report. These reports are very useful and can help merchants in business decisions. Merchants can also get total sales invoices. Sellers can also choose the third party analytics tools to get high quality analytics report.
Available Editions of Magento e-commerce – 
There are two editions of Magento e-commerce namely –
Magento Open Source ( Magento Community edition)
This edition is completely free. This package offers all the features that are required by a small store. Small merchants can use other downloadable Magento extensions to add extra functionalities. This package attracts small business owners as it is unpaid.
Magento Commerce (Magento Enterprise edition) 
This edition is paid. It has two packages, Magento Starter and Magento Pro. The Starter package offers all the features of Open source edition plus additional features to improve the security and performance of your e-store. This package is suitable for small and mid sized business.
Magento Pro package is costlier than the starter package and it offers even more features to online merchants. Magento offers advanced marketing tools to the merchants who choose the pro package. This package also facilitates cloud hosting. The business owners who want to scale their business should choose the pro package.
According to a survey, more than 40% of internet users buy products from e-commerce websites. Undoubtedly, numbers will increase and is expected to reach 50% by 2021. You can also sell your products to the customers globally. For that, you need to hire a magento web development company that can provide you the best e-commerce website. 
We have over 11 years of experience in digital marketing, app development, e-commerce, web designing and development. We have served 1000+ clients from 80+ countries. If you are looking for the best magento development services, kindly contact us to get your e-commerce website developed.